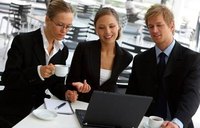 Keeping workers healthy and safe in the workplace is a top priority for companies and organizations of all kinds. Not only does management consider the well-being of people critical, but every time an employee misses work, there is an impact on the overall productivity of the company's goods or services. In addition, the more workers feel comfortable and positive about their places of employment, the more they will work to their best capacity.
Workplace training
One of the more important areas of employee health and safety is training. In order to do their jobs, people need to receive training in their specific areas of responsibility. Such training can range from how to run equipment on the assembly line to how to lead a successful cross-functional team. Such training is either done on site, at off-site educational centers or seminars or, most recently, online. When new employees are hired, they usually receive orientation training to learn more about the company and their jobs in general.
Policies and Procedures
Every company has its own rules, which are normally compiled either in the employee handbook or a policies and procedures guide. There may be one general book for all employees, or specific booklets for different departments. It is important that employees learn these policies and procedures as soon as possible, because they will help ensure their safety and general well-being. Companies also have to follow the workplace polices and procedures set by the U.S. Occupational Health and Safety Administration. Many companies will have yearly departmental meetings, to go over any changes in these guidelines.
Billions of Dollars Lost
Sick leave is an essential benefit in all organizations. Companies that do not offer days off for illness find that their employees come to work with health problems and spread diseases to others. In addition, they cannot work to their full capacity when they are not feeling well, and productivity suffers. On the other hand, even when employees are awarded for attendance records, organizations often lose significant amounts of money through sick leave abuse. Companies need to determine why employees are abusing the sick day policy and, if necessary, take disciplinary action.
Workplace Safety
In order to have a safe working environment, each company needs to determine the possible health and safety hazards throughout its facility. The organization also needs to look at each job and define how that function may be at risk of injury or illness. This begins with conducting an analysis of each workstation and operational area for potential hazards, which can range from carpal tunnel injuries from repetitive motions to chemical inhalation.
Ergonomics
Ergonomics, or designing work areas to the specific needs of the human body, is increasingly recognized as critical to worker health, safety and productivity. When employees are working in nonconforming situations, such as continually bending over and putting strain on their backs, they are much more likely to miss days due to physical injuries and low morale.