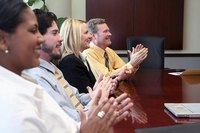 Sales training is a very important component of hiring a new employee. It can take up to 90 days for a new employee to become acclimated to selling your product or service; therefore, having effective training implemented early on will help both the new employee and your organization. Sales training is a method of teaching employees how to accurately and effectively offer a product or service to a customer, follow through and close the deal.
Orientation
Having an effective training orientation program is key to teaching a new employee. New employees are eager to learn the ropes. Besides vital company information such as benefits, orientation is a great place to teach your sales method. Spend considerable time informing your employees of your sales methodology. For instance, some companies use the ABC, or Always Be Closing, method of sales. Others use active listening approaches to offering and selling products. Give your employees ample information as to what your expectations are and what methods of selling are acceptable.
Customer Experience
Training your employees to interact with customers is vital. This will be time well spent for both the employee and for the organization. Teach them how to dialogue with the customer starting with a greeting upon their entering your establishment. Inform your employees how to use open-ended questions to start a conversation and then how to intelligently ask what brings the customer in today. Make sure your new employees are not overzealous or pushy with customers. Use role-playing methods of training to help your employees learn how to communicate in a friendly, intelligent manner while you are on hand to observe them.
Product Training
Once your employees are well versed in your sales methods, then it is time to train them fully on the products they will be offering a customer. If you are selling televisions, make sure your employees are trained in the differences between types of televisions such as LCD versus plasma. Make sure they understand the different connections on the backs of televisions and the various cables that can be used as hook-ups. Instruct your employees in specific terminologies that are used in your industry. Again, if the product is a television, teach them about aspect ratios and burn-in. This will help them be able to articulate your product in an intelligent manner.
Miscellaneous Training
Once your employees are trained in specific sales methods and products, you want to make sure they fully understand miscellaneous items such as returns, rain checks and back orders. Inform your employees of the company policies regarding these items. It will help them to understand and accurately communicate your policies to a customer.
Warranties Training
If the products that your employees are going to be selling have extended warranties or if you offer a third-party warranty with your product, make sure you communicate this to your new employees during their sales training.