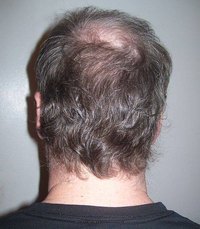 Originally developed as an oral medication to lower blood pressure, minoxidil was converted to a topical treatment for baldness when case reports and, later, clinical studies revealed that the drug caused hair to grow in balding patients. Both men and women can use minoxidil to regrow hair, and it is widely available without a prescription for this purpose. You must use minoxidil exactly as instructed, however, for the product to produce the best effects.
Use
While it may take several months to produce results, topical minoxidil does cause hair to grow in most people. The regrowth will stop and eventually be lost when you stop using minoxidil, however.
Unless instructed to do otherwise by your physician, you will apply minoxidil twice each day. Clean and thoroughly dry your scalp before applying the medication and use only the amount of minoxidil indicated in the instructions that come with the product. Wash your hands after you finish applying minoxidil, and do not go to bed for at least two hours after applying the medication. Also, avoid showering for at least two hours after applying minoxidil so you do not wash the medication off of your scalp.
Evidence for Effectiveness
Clinical evidence that topically applied minoxidil promoted the hair growth among people experiencing male pattern baldness (androgenic alopecia) appeared in 1984. In that year's September issue of the Journal of the American Academy of Dermatology, researchers led by E. E. Vanderveen reported that "three of five patients with androgenic alopecia using 5 percent minoxidil for 12 months noted hair regrowth, ranging from minimally observable hair to an appreciable restoration of larger, pigmented, terminal hair in one patient."
Later, V. H. Price and E. Menefee reported in the December 1990 of the Journal of Investigative Dermatology that 40 weeks of topical application of a 2 percent minoxidil solution increased the number of hairs found on the scalps of balding women by 29.9 percent. Minoxidil also increased the weight of individual hairs in Price and Menefee's study.
Side Effects
According to the National Library of Medicine, minoxidil can cause burning, drying, flaking, irritation, itching and scaling of the scalp.
Warnings
Do not apply minoxidil if your scalp is sunburned or otherwise irritated. Also, minoxidil rapidly and dramatically lowers blood pressure if it is absorbed into the body in larger than indicated amounts. Do not use topical minoxidil if you have heart disease or high blood pressure and seek medical attention if you begin having chest pains, difficulty breathing, an irregular heartbeat, lightheadedness or swelling in your face, hands or feet.
Products
The best-known minoxidil product for hair growth is Rogaine, which is marketed as a foam and a solution by the Johnson & Johnson subsidiary McNeil-PPC. Actavis, Bausch and Lomb, Copley, Hi-Tech Pharmaceuticals, Novex, Perrigo and Sight Pharmaceuticals make generic versions of topical minoxidil.