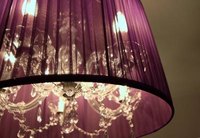 Austrian crystal is another way to describe Swarovski crystals from Austria. Swarovski crystals are produced by Swarovski AG of Wattens, Austria. The type of crystal (glass) that Swarovski is famous for contains a high percentage of lead. Lead glass becomes lead crystal when the glass is cut into facets, either by hand or by machine.
Lead and Glass
Swarovski crystal contains more than 32 percent lead (II) oxide. When lead oxide is melted into sand (silica), soda (sodium carbonate) and lime (from limestone), at high temperatures (1,500 degrees Celsius or 2,700 degrees F), it purifies the clarity of the glass, adding a brightness and gleam and an improved ability to refract light. Leaded glass was invented in England in 1676 by George Ravenscroft.
History
Around 3,500 years ago, glass was evolving independently, according to GlassOnline.com, in Mesopotamia, Egypt, China, Greece and Austria. By the 15th century, Vienna, Austria led Europe in the production of fine glassware. By 1892, Daniel Swarovski, who grew up in Bohemia in a glass-cutting family, had invented the first machine capable of making precision cuts in lead glass. The lead content in the glass makes the glass softer, heavier and less subject to fractures, becoming the perfect base for Swarovski's new industry.
Features
Today, Swarovski crystals are cut by computer-driven machines, producing high-quality crystal forms that can take the shape of anything from animals to fine jewels. The name Swarovski remains well respected as the producer of perhaps the finest leaded crystal available. The company has also been on the forefront of developing mixtures and coatings that are applied to the crystal to create color and various specialized effects. Most popular among these effects is the Aurora Borealis coating which, according to ArtFire.com, "gives the crystal a rainbow sparkle effect and was inspired by the Northern Lights."
Significance
Crystallized Swarovski Elements is the latest evolution of Swarovski which, according to its website is, "putting its valuable raw crystal elements into the hands of end consumers." Swarovski's Crystal Components and Elements come in thousands of shapes, colors, sizes and coatings and they are used in jewelry, chandeliers, home furnishings, clothing, purses and art glass.
Inspiration
High-tech cutting has turned glass into gems and a company into a glittering empire. By maintaining high standards and associating with top designers, Swarovski continues to inspire the imagination and support the expense of this elite glass form.