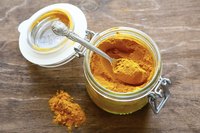 As the active ingredient in the spice turmeric, curcumin imparts the yellow color and peppery flavor in curry powder and yellow mustard. You can also take curcumin supplements. Curcumin is a natural antioxidant that fights inflammation and may prevent cancer. Lab studies show it may help treat Alzheimer's disease, lower blood sugar, reduce cholesterol and help you lose weight, but more research is needed in people to determine its effectiveness for these health conditions.
Fight Inflammation
Curcumin fights inflammation by blocking or regulating a substance that causes inflammation known as TNF, or tumor necrosis factor. Some prescription medications used to treat osteoarthritis, inflammatory bowel disease and psoriasis work by blocking TNF, so curcumin may also help treat the same health conditions.
When curcumin was given to people with knee osteoarthritis, it relieved pain just as well as ibuprofen, according to a study in the Journal of Alternative and Complementary Medicine in August 2009.
Another study, published in November 2012 in Phytotherapy Research, looked at the effect of curcumin on patients with rheumatoid arthritis. The researchers found that patients who took curcumin experienced better pain relief than patients who took prescription medication.
Cancer Prevention
Out of more than 1,000 natural substances tested by the National Cancer Institute, curcumin is one of only 40 with potential for preventing cancer, according to a report in Cancer Prevention Research in March 2013. Curcumin may be especially beneficial for colorectal cancers.
Curcumin's anti-inflammatory action is one way it might prevent cancer, but it also triggers cancer cell death and slows the spread of cancer cells, according to a review in Molecular Biology Reports in July 2014. It may work alone or be used together with chemotherapy and radiation.
Promising Antidepressant
A study published in April 2014 in Phytotherapy Research marked the first time that curcumin was tested in people diagnosed with depression. Patients taking antidepressant medication with curcumin saw more improvement in symptoms than patients who took medication or curcumin alone. Curcumin also proved to be safe, without causing suicidal ideation or other psychotic disorders.
Researchers continue to study how curcumin works, noting that it affects several systems in the body associated with fighting depression, according to a study in the January 2015 issue of European Neuropsychopharmacology.
Health Warnings and Considerations
Curcumin accounts for about 3 percent of the total weight of pure turmeric powder, according to a 2006 study in Nutrition and Cancer. This works out to about 300 milligrams of curcumin in a tablespoon of turmeric.
Curcumin is considered safe when used in foods, but taking large supplemental doses may cause gas, indigestion or nausea. If you're allergic to ginger, you're at a higher risk for being allergic to turmeric.
Talk to your health care provider before taking supplements if you have a history of kidney stones or you take medications. Curcumin can interact with over-the-counter nonsteroidal pain relievers such as ibuprofen, as well as medications used to thin blood, treat cancer or suppress the immune system.