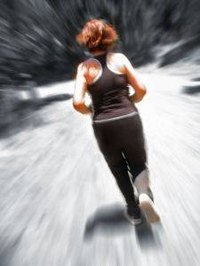 Losing weight is a matter of using more calories than you take in, and working out is an effective way to boost your weight loss. While MSNBC contributor Linda Stenerson says that people who build muscle by working out can gain a small amount of weight, the weight is muscle, not fat.
Cardio
Cardiovascular training, or aerobic exercise, works the large muscle groups, which burns calories at an accelerated rate. According to fitness expert John Litchfield at Weight Loss Resources, the ideal amount of cardiovascular training is between 30 minutes and one hour per day, three to five times per week.
Resistance Training
Resistance training is a key component of weight loss. According to Litchfield, every additional pound of muscle in the body burns an additional 50 calories daily. Resistance training builds muscles, which boost metabolism and burn fat even when you aren't working out. The book "Prevention's Your Perfect Weight" suggests resistance training should be done three days per week for 30 minutes each day.
Cardio Activities
According to ShapeFit.com, the best calorie-burning exercises include step aerobics (400 calories per half hour at high intensity); bicycling (250 to 500 calories per half-hour); swimming (approximately 400 calories per half-hour with intense strokes such as the breast stroke), and running (up to 300 calories per half-hour, depending on intensity). These activities are particularly beneficial because they work almost every area of the body simultaneously.
Resistance Training Activities
Some activities to include in a resistance training workout are side leg lifts, straight body dips, squats, leg raises, toe lifts, lunges, and forward and side arm raises (see the health section of USNews.com in the Resources).
Age Considerations
Guidelines for workout times and frequency are generally the same for any person between the ages of 18 and 60. Resistance training for anyone under the age of 13 requires extra care so as not to harm areas of cartilage that have not completely turned to bone yet. According to Mayo Clinic, children should always be supervised to ensure proper technique and should never engage in heavy weightlifting.