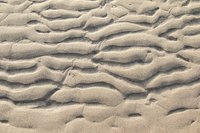 Strange as it may seem, when you eat foods or take supplements containing silicon dioxide, also called silica, you are basically eating finely ground sand. This additive is considered safe by the U.S. Food and Drug Administration for use in both foods and supplements, including fat burners.
Use in Fat Burners
Silicon dioxide is used in fat burners and other supplements to keep the active ingredients from caking and allow the tablets to dissolve and absorb better. It is considered an inert ingredient that doesn't have any effect on your body, so it doesn't have any fat-burning effect on its own.
Silicon Dioxide Safety
Although their isn't a recommended dietary intake level set for silica or silicon dioxide, silica may be necessary for good health. A deficiency could cause bone and joint problems, according to an article published in The Journal of Nutrition, Health & Aging in 2007. There isn't a lot of toxicity information on silica, but some animal studies showed there weren't any observable adverse effects up to levels of 50,000 parts per million.