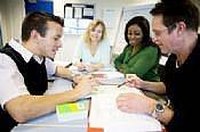 Communication is an important aspect of employee relations. As such, corporations are always searching for new ways to communicate with their managers and employees. Different companies try different methods and have different success rates because communication differs among cultures. Because good communication is key to a successful company, corporations should view trying different techniques with their employees as a marketing exercise.
Plays
Many corporations use plays as a communication tool. They hire a group of actors to come in and act out corporate strategies for productivity, employee relationships and manager skills. Plays can also be used for managers to role-play issues dealing with sexual harassment and employee relations. Role-playing is an effective tool for fostering communication as it brings employees together in a sense of camaraderie.
Talk Kits
Talk kits are generally distributed as a presentation communication tool. They are a great tool for breaking down a topic into understandable parts and they foster further face-to-face communication. Talk kits usually contain a slide show presentation, an outline and a list of questions and answers. The kits help managers better communicate face to face with their employees. According to Marcia Xenitelis in her book "Repositioning Employee Communication: How Smart Companies Engage Employees with Business Outcomes," talk kits are becoming increasingly popular with corporations around the world.
Team Briefings
Another effective communication activity is to have team briefings. These teams typically consist of five to six employees who meet regularly each week or month. At these meetings, teams discuss productivity, relations, policies and concerns. Teams compile a list at these briefings of questions they may need answered and someone is appointed to brief managers about the meeting. This form of communication activity helps employees feel that they have a say in the success of the company.
External Involvement
Corporations often involve their employees in activities outside of the company. Sometimes this means hosting a barbecue or softball game. Other times, external involvement means getting employees excited about and participating in community activities such as charitable fundraisers, environmental road cleanup programs or seminars for nonprofit organizations. Being involved in external projects brings employees and managers together in settings and causes outside of the corporate atmosphere, which can in turn foster communication within the workplace.
Social Media
Another key area to involve employees in communicating effectively is social media networks online. Facebook, LinkedIn and Twitter are all avenues a corporation can explore to communicate with employees. Employees who follow their corporation on Twitter stay connected to developments within the company and they can join in the "conversation," which makes them feel more valuable to the corporation.