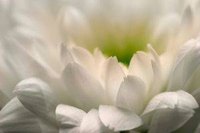 With a delicate and slightly floral aroma, and a taste that is light and refreshing, it's no wonder that chrysanthemum flower tisane has been enjoyed for centuries. It has been enjoyed in Asia not only for the taste but also for the medicinal and health benefits that come from sipping it. Chrysanthemum is also the national flower of Japan.
Preparation
While the medicinal properties of chrysanthemum may be found in creams and lotions, the most common usage is in drinking the tisane. This beverage is made from steeping the flowers of the plant rather than the leaves. As such, they require slightly longer steeping time in hot water, for up to 10 minutes. Allowing the tisane to steep in a closed container will preserve more of the essential oils.
Internal Medicinal Benefits
Traditional Chinese medicine claims that chrysanthemum tisane can be a great aid in the prevention of sore throat and fever, or that it can lessen the severity of the symptoms once they've presented. In Korea they believe that this tisane can act as a stimulant and is used to help keep people alert and awake. Western holistic and herbal medicine touts the benefits of drinking this tea to treat atherosclerosis and varicose veins, though this has yet to be definitively proven in clinical studies.
External Benefits
When the steeped flowers are squeezed of excess moisture, they can then be applied as compresses to reduce itching and dryness of the eyes. Traditional Chinese medicine also uses these compresses to treat other eye ailments such as blurring, dizziness and diminished vision. These compresses are also often used to help reduce acne swelling and redness.
Availability
While usually prepared at home from home dried flowers, the tisane can also be purchased in traditional Asian restaurants or Asian grocery stores. It can be found in pure form or mixed with other medicinal ingredients, and can also be purchased from Chinese medicinal stores. In addition, it is becoming a popular gourmet beverage and can be purchased online or in upscale tea boutiques.
The Science
The book "Herbal and Traditional Medicine" by Lester Packer, Choon Nam Ong and Barry Halliwell goes into great detail in the chapter titled "Pharmacological and Chemo-preventative Studies of Chrysanthemum" about the various studies that have been carried out on the legitimacy of the claims surrounding chrysanthemum use. While some of these claims have been substantiated in studies, much more work is required to provide definitive results.
Warning
Some people can have an adverse reaction to consuming or even handling chrysanthemum. It can produce mild skin irritation or rash, and if consumed it can produce mild to moderate stomach upset. However, most people do not have any reactions at all to chrysanthemum. Always consult your health care provider prior to consuming any herbal remedies as some can interact with other prescribed medications. If you have any questions consult your pharmacist, doctor or holistic adviser.