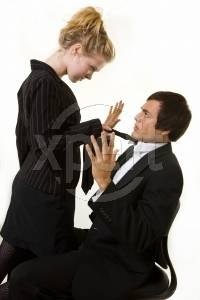 Workplace harassment can create a miserable existence for the victim. This is largely due to the fact that it can manifest in different forms, ranging from overt to subtle. The end result is often extreme stress (psychological issues) and lawsuits. Because of the tricky nature of harassment, it is important to know the signs of it occurring in the workplace.
Workplace Harrassment
When a worker is subjected to repeated, unsolicited, offensive or intimidating behavior committed by an employer, worker, coworker or member of the public, that constitutes workplace harassment. This includes verbally demeaning someone when others are present, harsh uncalled for punishment, unreasonable threats of dismissal, leaving offensive emails or telephone messages and spreading malicious rumors.
High Turnover
One of the quickest ways to spot if a company has workplace harassment issues is when employees resign from the company citing unsatisfactory working relationships. This means they are unhappy and need to find a healthier working environment. When several employees leave a company for this reason, it's often a red flag that there is widespread harassment occurring within the company.
Negative Surveys
Many companies use opinion surveys as a method of gauging how well the company and employees are performing. When the results of these surveys are mostly negative, an underlying reason could be workplace harassment. An employee suffering from harassment will be a negative individual, and if the harassment occurs on company property he is even more likely to produce an unfavorable survey.
Counseling Services
When the use of employee counseling services increases, often it is because employees are subjected to some type of harassment or abuse. It's always a cry for help, and when several employees start using this benefit, either the harassment is occurring at work or there are serious issues present at home. Human Resources professionals are trained to monitor the ratio of employees utilizing the company's counseling services in order to spot the presence of harassment, for example.
Isolation
Workplace harassment can lead to the victim feeling withdrawn and isolated. She doesn't want to partake in company activities, nor does she want to discuss her issue--she just wants to be left alone. Generally, she refuses help from anyone who tries to intervene and becomes entirely self-absorbed in her own issues. She also might be somewhat paranoid, thinking everyone is against her.
Low Morale
When employees suffer a significant reduction in productivity and in their self-esteem, workplace harassment is often to blame. They abhor going to work, show up late, become increasingly absent, or leave work early claiming to be "sick"--they don't want to be there. Before taking drastic action (firing the employee), employers are encouraged to communicate with the employee to find the root of the problem, hence eliminating workplace harassment if it is to blame.
Prevention/Solution
Workplace harassment is very difficult to control. It can take more than one type of action to attack it, and even then, it can still occur again. Luckily, more and more companies are realizing the importance of addressing this problem and have implemented training classes on workplace harassment as well as Human Resources systems to handle complaints.