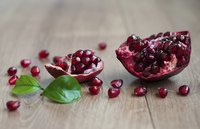 With arils that glisten like rubies and burst with flavor, pomegranates add gorgeous color and flavor to healthy dishes. Their reputation as a superfood is well-deserved -- not only are pomegranates low-calorie, at 72 calories per 1/2-cup serving, but they're loaded with phytonutrients and vitamins you need for good health.
Antioxidants, Antioxidants, Antioxidants
If you're seeking an antioxidant powerhouse, pomegranate should be a staple in your diet. Like their name suggests, antioxidants fight oxidation. That's important for your long-term health, since oxidative damage contributes to genetic mutations and aging.
Pomegranates come packed with polyphenols -- a class of antioxidants -- reports a study published in the "Journal of Food Science and Technology" in September 2014. The study looked at the chemical composition of pomegranate and identified several active antioxidants -- including gallic acid and ellagic acid -- in their arils. Pomegranates also contain manganese and vitamin C, two essential nutrients with powerful antioxidant function.
Healthy Digestion and Weight Control
Pomegranates also offer a significant dietary fiber boost. One-half cup of arils increases your fiber intake by about 4 grams -- 14 percent of the daily value for fiber.
Fiber keeps you regular, adding bulk to your stool and making it softer and easier to pass so that you're less likely to suffer from constipation. Fiber-rich foods also tend to be more filling because of their ability to absorb water, even though fiber itself doesn't add to your calorie intake.
Blood and Bone Health
Each serving of pomegranate offers a generous amount of vitamin K, a nutrient that's essential for blood cell function and bone health. Vitamin K regulates the activity of proteins found in your bones and cartilage. While the role of these proteins is still under investigation, they seem to control bone growth and the breakdown of old bone tissue. Vitamin K is also essential for healthy blood clotting, which protects you from excessive bleeding. A serving of pomegranate offers 14 micrograms, or 18 percent of the daily value for vitamin K.
Serving Tips and Suggestions
Pomegranates are a little messy until you get the arils out -- try filling a mixing bowl with water, and remove the arils underwater to avoid stains -- but they're versatile in the kitchen. Keep an airtight container of arils in your fridge, and add a handful to hot and cold cereals, Greek yogurt, granola or salad for a burst of flavor. Pomegranate pairs especially well with heartier salads, like those containing wilted kale, poached pear chunks and caramelized onions. Start your day off with a pomegranate protein smoothie -- blend a handful of arils with frozen orange sections, a spoonful of flax or chia, your favorite protein powder, a dollop of Greek yogurt and a splash of unsweetened vanilla almond milk. If you crave more exotic flavor, add a sprinkle of ground cardamom.