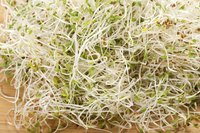 Alfalfa sprouts not only add crunch and flavor to your salads and sandwiches but nutritional value, too. For only a few calories, alfalfa sprouts up your intake of a number of essential vitamins and minerals, especially vitamin K.
So Few Calories
If you're looking for a low-calorie food to add to your diet, alfalfa sprouts make a good choice. One cup of the raw sprout has only 8 calories. Alfalfa sprouts can help satisfy your appetite and help you stay within calorie balance for better weight control.
Alfalfa sprouts are also low in carbs and fat-free, but they are not a very good source of protein, with about 1 gram of carbs and protein per cup.
Blood-Clotting Nutrition
Alfalfa sprouts are a good source of vitamin K, meeting 13 percent of the daily value in a 1-cup serving. You need vitamin K in order for your blood to clot. There's also some evidence that vitamin K may also help the elderly maintain bone strength, MedlinePlus notes.
If you're taking blood thinners, also referred to as anti-coagulants, you may need to limit your intake of alfalfa sprouts. Vitamin K in food interacts with these medications and may alter their effectiveness.
Antioxidant Source
Alfalfa sprouts are not a significant source of any one antioxidant, but the low-calorie veggie contains a few of them in small amounts. A 1-cup serving meets less than 5 percent of the daily value of vitamin C, beta-carotene and manganese.
Antioxidants act as a defense mechanism in your body against free radicals, which are substances that damage your cells and alter genetic material. Free radicals may be partly responsible for the development of chronic diseases such as cardiovascular disease and Alzheimer's, as well as vision loss. Upping your intake of foods rich in antioxidants may help prevent the onset of these illnesses.
Small Amount of B Vitamins
The low-cal sprout also contains small amounts of most of the B vitamins, including thiamine, riboflavin, niacin, pantothenic acid, vitamin B-6 and folate.
B vitamins are water-soluble, which means your body cannot store them and you must consume foods rich in B vitamins every day for good health. As coenzymes, B vitamins help the body get energy from food. They also aid in appetite control, vision and skin health and the formation of red blood cells.
Variety of Minerals
In addition to manganese, alfalfa sprouts also contain a variety of health-promoting minerals in small amounts, including calcium, iron, magnesium, potassium, phosphorus, zinc and copper. While a 1-cup serving of the sprouts meets less than 5 percent of the daily value of each of the minerals, adding the crunchy veggie to your food may help boost your intake.