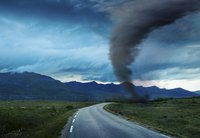 Your homeowner's insurance may or not protect your property if it is damaged by high winds. In fact, insurance companies are likely to exclude windstorm losses from standard policies if you live in an area vulnerable to tornadoes or hurricanes due to the high risk. Windstorm insurance fills in this coverage gap.
Characteristics of Windstorm Insurance
Windstorm insurance is property and casualty insurance that specifically covers losses due to damage by high winds. A windstorm policy may cover hail damage as well but generally does not pay for flood damage. Windstorm insurance covers the house, but not all policies also insure possessions inside your home. You can obtain windstorm insurance in one of two ways. First, you may be able to purchase an endorsement to an existing homeowner's policy. An endorsement is an addition tacked onto your current insurance that covers wind damage. Alternatively, you can get a separate policy that specifically covers windstorm losses.