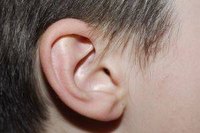 A plugged ear can be annoying and extremely painful. Sometimes the cause of a plugged ear is obvious, particularly if you happen to have a cold at the same time. There are several causes of a plugged ear and some may require a visit to a doctor to correct the problem.
Inflammation
When the tubes connecting the ears to the throat become irritated and inflamed, they can swell and cause the feeling of having a plugged ear. This condition is often caused by an infection and can be accompanied by pain, fever and sinus or nasal symptoms. Some people may also experience balance problems if the inflammation or infection spreads to the middle ear.
Fluid
Fluid build up behind the ear drum can cause a plugged ear. Fluid build up is normally caused by a cold or sinus irritation, but it can also be caused by water or other liquids entering through the ear canal and seeping behind the ear drum. Children are more prone to fluid build up behind the ear drum. In cases of chronic build up, tubes may be inserted in the ear to allow the fluid to drain.
Wax
Wax is produced in the ear canal to protect the skin there and to help trap dust and particles that may enter the ear. Most ear wax naturally exits in the ear and falls out or is swept away when bathing. Wax build up can occur when a person attempts to clean the ear with a cotton swab or finger and they end up pushing wax deeper into the ear canal, causing build up. Some people naturally overproduce ear wax, which also leads to build up. Wax that accumulates in the ear will harden and can cause the ear to feel plugged.
Foreign Objects
A foreign object that enters the ear can cause a plugged ear. This condition most often affects very small children who put things in their ears, such as food or toys. Adults can also experience this condition if a bug enters the ear canal and gets stuck in ear wax, or if foreign matter such as dirt or sand falls into the ear.
Air Pressure
When the air pressure behind the ear drum is different from the air pressure in the environment, it can cause an ear to feel plugged or painful. This condition is often called "airplane ear" because changes in altitude, such as when one is in an airplane in flight, are the most frequent cause of this type of pressure issue. Having a cold or ear infection can increase the pain associated with this condition.