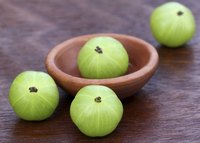 Also referred to as the Indian gooseberry, amla fruit has a tangy, somewhat sour flavor. The fruit can vary in size from 1 to 3 centimeters in diameter and can be found in specialty markets and some large supermarkets. Amla is a good source of several key vitamins and minerals and might also offer some health-protective benefits.
Fantastic Fiber
Women need 25 grams of fiber per day and men require 38 grams, according to the 2010 Dietary Guidelines for Americans, and a 100-gram serving of amla fruit contains about 2 grams of fiber. Fiber promotes normal digestion, which cuts down the risk of constipation. Including plenty of fiber in your daily diet might also reduce your risk of heart disease, Type 2 diabetes and obesity, according to the U.S. Department of Agriculture. Fiber also promotes a feeling of fullness after eating, which can play a role in weight loss and healthy weight maintenance.
Nutrients in Amla Fruit
Amla fruit is a good source of ascorbic acid, or vitamin C. The exact amount varies, but a 100-gram serving can contain anywhere from 467 milligrams to 1,000 milligrams or more, according to Purdue University. A serving of amla fruit usually contains more than the 75 to 90 milligrams healthy adults require each day. Amla fruit supplies small amounts of iron, a nutrient that helps your body make red blood cells and produce energy. You'll also get trace amounts of protein, calcium and phosphorus from amla fruit.
Health Benefits
Amla might help treat diabetes, according to Michael Greger, M.D. Amla fruit powder can help reduce blood glucose levels in diabetic patients, according to a 2011 article published in the "International Journal of Food Sciences and Nutrition." The study also found that amla powder helped reduce cholesterol levels in both diabetic and nondiabetic subjects. Amla also contains antioxidants, which help prevent damage caused by free radicals and lower your risk of chronic health problems such as heart disease. The fruit also potentially reduces the risk of cancer, according to a 2011 study published in the "European Journal of Cancer Prevention.
Amla in Your Diet
One of the easiest ways to add amla to your diet is to chop the fresh berries and add them to a fruit salad, according to Monisha Bharadwaj, author of "The Indian Spice Kitchen." You might also add amla to green salads or use it as a garnish. Amla also appears in chutneys and preserves. Dried amla is often easier to find than the fresh fruit -- you can also add it to sauces and stews, or sprinkle it into smoothies and homemade baked goods.