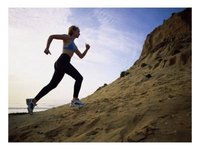 There are many reasons for knee and hip pain. But they're common and are usually treatable with a change in activity or time. In some cases, the pain is caused because of some bigger issue--but even then, medication and therapy can ease the pain. The first step is to figuring out why the pain is there.
Osteoarthritis
Osteoarthritis, a disintegration of cartilage in the joints, is very common in people who complain regularly of hip and knee pain. Osteoarthritis is more common in older people and is described as a severe ache that lingers in and around the joints. The symptoms of osteoarthritis tend to worsen after physical activity. There are treatments available for osteoarthritis (see Resources below).
Fracture
Because the hip and knee are made of bone, they are susceptible to fractures, which is a crack or break in the bone. Fractures can happen for a number of reasons, but the most common is a fall. Fractures happen more frequently to elderly people because the bone becomes softer with age and breaks easier. Fractures are treatable and often have to be put into a cast to heal properly.
Tendinitis
Both the knee and hip are susceptible to tendinitis. The tendon is a rubber-band type of tissue that's very flexible and attaches the muscles to the bones. If the tendon gets irritated, it can tear or become inflamed--which can be very painful. The most common reasons for tendinitis are too much activity without proper rest. Age is also a factor, because the tendon ages just like everything else and loses its ability to flex as freely as it used to.
Muscle Strain
The hip and knee are both surrounded by muscle. Often when the muscle is overworked or pulled inappropriately, this causes pain. Muscle strain is often known as a pulled muscle. Muscle strain is common during exercise and other physical activity, especially when the muscles haven't been properly warmed up to be used. The best cure for muscle strain is time and rest.
Bursitis
The bursa, which is a fluid sac, is present in the hip and knee. It's there to help cushion the bones and joints. It's painful when this fluid in the bursa becomes inflamed. Bursitis pain can be subtle at first and then become progressively worse. It's a dull ache that lingers around the kneecap or hip bone. It's caused by unfamiliar activity to the area or a long period of pressure on the area, such as kneeling.