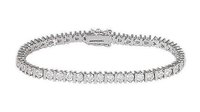 The American Heritage Dictionary defines a tennis bracelet as "a bracelet containing many small gemstones, such as diamonds, that are set and linked one after the other into a narrow chain." An incident that occurred at the U.S. Open in 1987 served as the impetus for this fashion trend that developed into an elegant, classic and timeless style of jewelry.
History
In 1987, Chris Evert played tennis in the U.S. Open wearing a bracelet composed of a thin row of diamonds. During the match, the bracelet broke. Officials stopped play so that Evert could find the bracelet. Thus, the term "tennis bracelet" and a fashion trend were born. The trend endured, with other tennis stars such as Gabriela Sabatini and Serena Williams, as well as movie stars, sporting the classic look of in-line diamond bracelets.

Features
The classic version of the tennis bracelet is a single row of symmetrical, individually set diamonds. Individual settings make the bracelet flexible, so that it moves with the wearer and is more comfortable. Tennis bracelets usually feature a safety latch, which is a backup measure in case the clasp breaks. There are two kinds of safety latches: chains and "figure eights." Chains link one side of the main clasp to the other. According to www.wisegeek.com, "[t]he figure eight latch is a small double loop of metal. One loop snaps over a similar post on the opposite side."

Types
While the classic type is made of diamonds set in yellow gold, consumers can choose a bracelet made of gold (rose, yellow or white), silver, or platinum. They also can choose different faceted gemstones such as amethysts, emeralds or garnets. Tennis bracelets made with cubic zirconia or moissanite are more affordable options. Finally, there are choices to consider regarding the cut and size of the stones in the bracelet.

Size
Tennis bracelets vary in size, as do the diamonds or other gemstones in them. Common sense tells us that a bracelet that is too loose might slip off of the wearer's wrist. However, a bracelet that is too tight may chafe the skin or cause the clasp to break. It is important to measure and judge the appropriate size of the bracelet when it is purchased to avoid loss or damage.

Function
A tennis bracelet may function in several ways. First, it is an adornment, an elegant accessory that completes an outfit. Celebrities may wear a custom-designed tennis bracelet on the red carpet to advertise a jeweler's work. But a tennis bracelet may also hold sentimental value for the wearer as a family heirloom or inheritance, or a gift that holds special meaning.