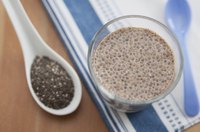 Salvia hispanica is the plant that produces tiny chia seeds, which range in color from light brown to black. Chia seeds have been used medicinally for years, but they're also rich in essential nutrients. Consume chia and you'll get nutrients that promote good health and also combat disease.
Unsaturated Fats and Heart Health
An ounce of chia seeds contains 8.7 grams of fat, of which less than 1 gram is saturated. Restricting saturated fats in your diet and replacing them with unsaturated fats is one way to reduce the risk of heart disease, according to the American Heart Association. Polyunsaturated fat in particular might lower your LDL cholesterol levels, and keeping your bad cholesterol levels low can protect you from heart disease. An ounce of chia seeds contains 6.7 grams of polyunsaturated fat. Chia seeds also contain alpha-linolenic acid, a type of omega-3 fatty acid, which might be useful in reducing the risk of heart disease, high cholesterol and high blood pressure, according to the University of Maryland Medical Center.
Numerous Nutrients
You'll get about 2.2 milligrams of iron in 1 ounce of chia seeds, which is 28 percent of the 8 milligrams of iron men need in their daily diet and 12 percent of the 18 milligrams women should have each day. Iron helps maintain energy and aids in red blood cell production. That same ounce of chia seeds also delivers 244 milligrams of phosphorus. That's 35 percent of the 700 milligrams healthy adults need each day to help maintain bone mass. Chia seeds also supply a good dose of zinc for a healthy immune system, calcium for strong bones and niacin to help keep your skin and nerves healthy.
Protective Health Benefits
There are 9.8 grams of fiber in an ounce of chia seeds, which translates to about 40 percent of the 25 grams of fiber women should aim for each day and 26 percent of the 38 grams men need daily. A diet rich in fiber can help lower your cholesterol, which reduces the risk of heart attack and stroke. Chia seeds also contain antioxidants, according to a 2012 article published in the "Journal of Biomedicine and Biotechnology." Antioxidants protect your cells from damage that can raise your risk of health problems such as cancer.
Chia Seeds in a Healthy Diet
An easy way to incorporate chia seeds into your diet is to add them to foods you already enjoy. For example, add chia seeds to your morning smoothie or scatter them over a bowl of chopped fruit. Stir ground chia seeds into crepe batter to boost the nutrition and add a nutty flavor. Replace poppy seeds in your favorite bread recipe with chia seeds, or use them as a topping for a vegetable salad.