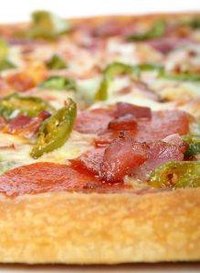 Domino's Pizza is one of the world's most recognized pizza companies. Domino's delivers pizza right to the door and offers a pick up at their store as well. Most major cities in the United States have a Domino's Pizza and the chain has expanded to over 8000 stores around the world. With a wealth of fresh ingredients and a variety of menu options---Domino's fulfills customer's cravings for Italian American foods.
History
Domino's Pizza was founded in 1960 by Tom and James Monaghan. They purchased a pizza store in Ypsilanti, Michigan called "DomiNicks" for a mere $500.00. Shortly after, they renamed the store Domino's Pizza Inc. In 1967, the store opened up to the public. Tragedy struck in 1968 when the company headquarters was destroyed by fire, taking almost two years to rebuild. 1989 marked the introduction of the pan pizza---the company's first new pizza product. Struck by a lawsuit from a similar named business named Domino's Sugar, Domino's Pizza won the suit but had to work hard to regain its popularity in the pizza business. Today, Domino's is considered to be the"Official pizza of NASCAR" and the official pizza of Michigan International Speedway.
Domino's Facts
While Domino's Pizza remains one of the top pizza chains in the United States---there are a few fun facts about the company as well. Superbowl Sunday remains the busiest day for the pizza giant. They typically deliver around 1.3 million pizzas to homes preparing to watch the big game. The three dots on the top of a Domino's pizza box represent the first three stores that the franchise opened. Domino's delivery people drive over 9 million miles each week to deliver hot and tasty pizzas. In the United States pizza, especially Domino's, is the fourth most craved food by Americans aside of cheese, ice cream and chocolate.
Pizza Crust
The pizza crust on a Domino's pizza is what sets them apart from their competitors. They offer four different crusts: hand tossed, thin, pan and Brooklyn. The hand tossed pizza crust is one of their most popular crusts. Hand tossed with a lumpy texture that is full of flavor bubbles and soft crust. The thin crust remains crispy yet crunchy and allows the pizza lover to enjoy more of the toppings and less crust. Pan pizza is a thick crust pizza baked in a rectangular pizza pan---the end result is a crisp texture that holds all of the ingredients safely in place. The Brooklyn pizza is meant to be similar to the traditional New York style pizza. This pizza crust is a big thin crust that is able to bend in half for maximum pizza penetration.
Ingredients
Domino's uses only the freshest ingredients on top of their pizza crusts. Some of their most popular pizza combinations are the Philly Cheese Steak Pizza, Buffalo Chicken Pizza. Ultimate Pepperoni Feast and the MeatZZa Feast. 100% pure mozzarella, feta and provolone cheeses are used on all pizzas. USDA pure beef is always utilized when making meat pizzas so they turn out with baked perfection! Fresh veggies such as green pepper, onions, mushrooms, peppers, spinach and tomatoes are the perfect toppings for specialty pizzas and subs.
Other Menu Items
Domino's is known for their big taste and their cheesy pizza, but they also have other tasty items on their menu as well. They have fresh baked subs that are made to order and enough to satisfy the hungriest appetite. Buffalo chicken wings and buffalo kickers are great snacks to order alongside of a pizza. Dipping sauces such as ranch and blue cheese are great ways to cool off a spicy tongue. Greek, garden and chicken Caesar salads are popular side dishes too. Domino's is well known for its breadsticks. Topped with cheese and garlic seasonings---no meal is complete without a breadstick and pizza combination.