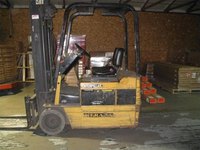 Powered industrial trucks, also called forklifts, are power-driven vehicles used for carrying, pushing, pulling, lifting, and stacking materials. Usually used in factories and warehouses, forklifts make many jobs that were once done manually a lot easier. Other names for forklifts include high low and lift truck.
Features
Driving a forklift is a little like driving a car, but the center of gravity is completely different. Most cars have heavy engines in the front. Electric forklifts carry heavy batteries in the back and fuel-powered forklifts have a cast iron counterweight attacked to the back of the frame. The weight in the back of a forklift keeps it from tipping when you lift a heavy load. Forklifts steer from the rear to make them easier to move around in tight spots.

Types
Clark, a company who made transmissions, and Yale and Towne, who made hoists were among the first companies to build forklifts in the early 1900s. Both companies are still building them today, along with other companies such as Mitsubishi Caterpillar, Toyota's Raymond, Nissan, Komatsu, Crown, Linde, and Hyster.
Identification
The average forklift has a frame that other parts are attached to. The cab is where the forklift operator sits. Besides the seat, it contains control pedals, levers, switches, a dashboard, and a steering wheel. The cab is covered by an overhead guard, which is a metal cage-like roof that protects the driver from falling objects. Forklifts have a battery that powers electric motors or an engine powered by fuel. The mast, which is attached to the front axle of the forklift, raises and lowers material with rollers or bushings. Tilt cylinders mounted to the mast and frame turn the mast to help balance a load. Forks or tines that pick up a load are mounted on a carriage that moves up and down the mast with chains.
Considerations
Forklift drivers must be trained, tested, and licensed or certified. Safety regulations set by ANSI (American National Standards Institute) and OSHA (Occupational Safety and Health Administration) have caused workplaces to meet safety standards by using approved training programs and procedures to be sure equipment is safe to use.
Function
Most forklifts can pick up 1 to 5 tons, but some that are used to lift loaded containers can lift up to 50 tons. A plate on the forklift lists the rated maximum weight it can lift. Forklift operators can raise and lower the forks, tilt the mast so a load doesn't slide off the forks, and use side shifters to help the forklift move loads in and out of tight areas. The load limits for the forks are only good when the forks are down. The limits decrease when a load is lifted.