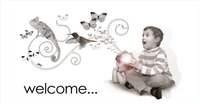 Once upon a time, reading used to be fundamental. Today, it's come to be more of a cursory chore among the masses. Television, video games and the Internet have become the primary means of obtaining information. Now, relaying information depends on the effective use of visual communication skills through graphic design.
Identification
Graphic design is based on the idea that information is best conveyed through the combined use of text and images. Within this context, images work to further communicate the message being expressed by the text. Visual communication skills are put to use within the areas of typography, drawing, illustration, sign-making and graphic design. Placement, color, symbol and design are the primary components used to get a message across. The main objective is to present an informative message in such a way that visual cues carry the impact of the message. Design aspects are chosen based on how the audience will interpret them, and not on the designer's aesthetic preferences.

Function
On average, an audience will only take in anywhere from 25 to 50 percent of what they hear and about 50 percent of what they read. Meanwhile, short-term memory capacities hold only 5 to 7 points at a time. The use of visual communication skills can carry and convey much of what's being lost. Where words may complicate, visuals work to simplify and direct the content and impact of the message. When combined with words, design components make use of color and images to frame the tone and emotional content. The combined effect works to reinforce the overall communication objective.
Features
Graphic design elements include the use of cues and symbols to help the audience anticipate what's coming next. Cues come in the form of universal signs (like arrows), layout formats (like paragraphs versus bullets) and colors (like using red for emphasis). Combining words with symbols helps to strengthen the message and make it easier to remember. These techniques address both left-brain and right-brain sensory processes, and so deliver a more cohesive message. These visual communication skills are best conveyed within a well-planned design.
Effects
Layout composition is a key aspect of graphic design. In the case of a web-page layout, a visitor's initial impression is made by how well words and design fit together. Images, colors, shapes, font sizes and navigation tools should all work to create a message that communicates the information contained in the site. A number of studies have been done that identify what parts of the screen a visitor is most likely to view first. The upper left-hand portion is shown to be the first place a visitor's eyes will land. Whether it be a logo, a message or a company name, this area is the starting point for the site's overall message. In effect, composition can be laid out like a bread crumb trail, using visual communication directives that combine graphics with text. (See "Eye Tracking Study: Web Design for Conversion" in "Additional Resources," below, for information on how to lay out your site.)
Significance
The world of web marketing relies heavily on graphic design to communicate an effective message. Design components not only present information to visitors, it communicates with search engines as well. The site's title, keywords and subheads provide the directives needed by search engines to get visitors to the site. Image captions that use site keywords are also tracked by search engines. As such, utilizing effective visual communication skills on the web becomes a two-pronged process where graphics and text must appeal to two different audiences. The challenge lies in balancing the site's message so visitor audiences are given just as much preference as search engine robots.