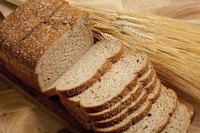 Of the three major macronutrients -- proteins, carbohydrates and fats -- carbs may have the worst reputation because of the proliferation of low-carb diets. But carbohydrates don't deserve their bad rap. They're actually essential for good health. Make smart choices by eating relatively unprocessed carbohydrates and you'll enjoy several health benefits.
Fuel for Your Organs
During digestion, your body breaks down complex carbohydrates into sugars and uses this sugar as a source of energy for your organs. Your kidneys -- organs that help detoxify your body -- use carbohydrates for energy, and your heart relies on carbs to function. Carbohydrates also serve as the main source of fuel for your brain, and maintaining healthy brain sugar levels is important for cognitive function. Eating carbohydrates is especially important in the elderly, because a carb-rich meal boosts memory, explains the Franklin Institute.
Support for an Active Lifestyle
If you live an active lifestyle -- or you're trying to -- carbs make up an important part of your diet. Because your body can use them for energy, it doesn't have to break down protein -- abundant in your muscles -- as a source of fuel. As a result, carbs help you hold onto muscle mass. Carbohydrates are also essential in athletes' diets because they fuel long and intensive workouts. The Iowa State University Extension recommends consuming carbs before and after exercise, as well as during intense workouts.
Fiber - A Special Carbohydrate
Fiber also plays a key role in your health. It doesn't serve as a source of fuel -- your body can't break it down into sugar -- but instead passes through your digestive tract relatively unchanged. This adds bulk to your stool, so you're less likely to suffer constipation. Some types of fiber, particularly the type found in beans and whole grains, help to lower your blood cholesterol levels, which protects you from coronary heart disease. You need a significant amount of fiber each day -- 25 grams for women and 38 for men, reports the Colorado State University Extension.
Choose Wisely
When you're adding carb-rich foods to your diet, select ones with fiber for optimal health benefits. That means getting most of your carbohydrates from fruit, veggies, beans, nuts, legumes, seeds and whole grains -- such as whole-grain bread or whole-wheat pasta. Steer clear of more processed options, such as sweets, white rice, regular pasta or white bread. Opting for whole-grain options reduces your risk of diverticulosis, notes the the Linus Pauling Institute, as well as your risk of cardiovascular disease. Avoid added sugars -- ones added for sweetness, not found naturally in a food -- and watch out for "healthy" sources of added sugars, such as granola bars and yogurt.