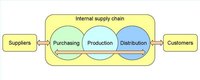 Supply chain management involves managing all the activities that go into putting commercial products in front of consumers. This includes procuring supplies from suppliers, transporting them to and supervising the means of production, and distributing finished products to end-buyers. At each phase there are important relationships that must be maintained, such as those between suppliers, intermediaries, service providers and customers. Because of the complexity of supply chain management, continuing education programs, such as the APICS certification programs, are a common requirement for key staff.
Identification
The Association for Operations Management, or APICS, is a widely recognized leader in operations management, which includes supply chain management, and is one of the most respected sources of knowledge in the field. The association has provided training and certification since 1957, and continues to publish several key magazines and other resources for industry professionals. The APICS Certification in Production and Inventory Management, CPIM, is a key credential for process management consultants and manufacturing production planners.
The Facts
The entry-level text for the APICS CPIM is the "Basics of Supply Chain Management Primary References Series." The program is the recommended prerequisite to other modules of the CPIM program. The book is available through the APICS website (see resources below) at $131 for APICS members or $174 for nonmembers. Included is the "Basics of Supply Chain Management Practice Questions" booklet, reprints and introduction to the sixth edition of "Materials Management."
Function
A widespread corporate trend has been cost-cutting and a focus on core competencies. As a result, many manufacturers have divested their supplier subsidiaries and distribution channels. This has increased the importance of correlating procurement and production, the heart and soul of supply chain management. APICS, through their Basics of Supply Management programs and resources, is designed to give production managers the knowledge they need to keep up with the pace of business.
Features
The CPIM program started in 1973 and has trained more than 75,000 manufacturing professionals to improve the efficiency of their organization's supply chain, forecast demand and outcomes more accurately, and maximize customer satisfaction and profitability. Key features of the program include terminology, concepts, strategies for managing demand and procurement, and tools for planning material and capacity requirements planning, sales and operations, quality control and supplier relationships.
Significance
According to Payscale, the median annual salary for a APICS certified supply management consultant can range from $60,000 for a manufacturing production planner to as much as $109,694 for a management consultant. These positions are often stepping stones to an executive level position. The average vice president of operations earns $140,860.