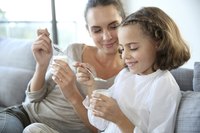 Lactobacillus acidophilus, a type of good bacteria often used to ferment foods or taken as a supplement, may help prevent diarrhea, help digestion and improve immune function, according to the University of Maryland Medical Center. While side effects tend to be few and short-lived, acidophilus could cause more serious issues if you have a compromised immune system. Don't take acidophilus without first consulting your doctor, especially if you have an underlying health condition.
Gastrointestinal Issues
Although acidophilus may help limit digestive problems like diarrhea, sometimes associated with antibiotic use, it can also cause these types of symptoms in some cases. Mild gastrointestinal issues are the main side effects that tend to occur from taking acidophilus supplements. These include gas, bloating, diarrhea and upset stomach. These symptoms are more likely to occur at higher doses, such as those of more than 1 billion L. acidophilus cells per day.
Increased Risk for Infection
Certain people should avoid using acidophilus and other probiotics due to an increased risk for infection, including a serious type of infection called sepsis. This includes people with compromised immune function, such as those with HIV/AIDS, people undergoing chemotherapy, those who have had organ transplants and people with artificial heart valves. This isn't an issue for healthy people with no underlying conditions, according to a review article published in "The American Journal of Clinical Nutrition" in June 2006. No reported cases of sepsis due to probiotic use in healthy people had been reported as of the publication of the article.
Interaction With Medications
Check with your doctor to make sure it is safe for you to take this probiotic, as another potential issues with L. acidophilus supplementation is interaction with other medications you may be taking. For example, L. acidophilus appears to cause the ulcerative colitis medication sulfasalazine to be metabolized more quickly. If you're taking antibiotics, take them two hours before or two hours after you take L. acidophilus, otherwise the antibiotics may kill off the L. acidophilus bacteria and eliminate any potential benefits from these supplements.
Allergic Reactions
Although not common, there is a chance you could be allergic to acidophilus or other probiotics. Get medical help right away if you exhibit swelling, hives, trouble breathing or any other symptoms of an allergic reaction after taking acidophilus supplements.