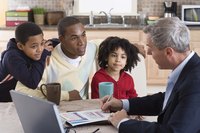 Short-term financial planning involves examining your immediate financial needs, taking stock of your goals for the coming year, and possibly beginning the planning for your long-term goals. Depending on your objectives, short-term goals might stretch over two years. A good first step for creating a long-term financial strategy, including saving for a home and retirement, is to get your short-term financial situation in order and assess where you can go from there.
Reviewing Income Sources
A short-term financial plan is often restricted by the amount of income you have. In addition to reviewing your current salary or wages, estimate what other sources of annual income you might have. This can include a company 401(k) match, capital gains from investments, gifts from parents and even cash generated by a yard sale. For planning purposes, you might consider ways you can earn extra income, such as a part-time second job or selling items on eBay or Craigslist or at flea markets. Don't forget to estimate taxes on any extra income you earn to give you a true picture of how much income you'll have for the year.
Examining Expenses
Once you know what your income will be, start listing your expenses. Collect copies of the previous year's bank, credit card and investment statements. Check your PayPal statements if you regularly buy items using that payment method. At this point, you won't need to determine your dollar expense for each -- you'll do that when you create a personal budget. Use this process to accurately determine what your expense categories will be during the year.
Developing a Personal Balance Sheet
To keep track of your net worth, create a personal balance sheet, which is a list of your assets and liabilities. This document does not include estimated income or expenses. It's a snapshot of how much you're worth at any given time and changes as you spend or earn income. With a short-term financial planning strategy, you can update your balance sheet each month, particularly if you own real estate or investment products.
Creating a Budget
To create short-term financial strategies, it's a good idea to have a personal or household budget. This is a list of your monthly income and expenses projected for a fiscal year. This can help you save for periods when your expenses will be higher, such as when you have a quarterly insurance premium payment due. The Better Business Bureau provides a list of common household expenses at its website to help consumers create accurate budgets. After your first draft of your budget, you'll see if you'll have enough money to pay all of your bills for the year. If not, you can use your budget to help you reduce discretionary spending. If you have excess income, you can create financial plans to invest it, pay down debt or budget for a vacation or other discretionary purchase.
Savings Strategies
With a budget, you have a better idea of how and where you can save money. For example, a short-term plan for reducing your mortgage payments might include refinancing. You might be able to cut credit card interest payments by doing a balance transfer or using excess income to pay off your debt. Using your budget, you might assign a percentage of your monthly net income to a college or mortgage savings fund, or emergency cash fund. If you don't know how much money you'll need when you retire to maintain your desired lifestyle, part of a short-term financial plan would include determining your target number, learning what you need to save monthly to meet it and researching your options for starting retirement planning. You might also calculate what you'll need to save each month to buy a home. This information will let you know whether you need to start cutting your spending in other areas this year.