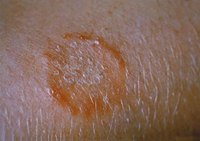 Ringworm is a type of infection that can live in the hair follicles, skin or nails. These infections are not caused by a worm, but rather are the work of a fungus. These contagious fungi, called dermatophytes, can be transmitted between people, between animals, from animals to people and via contaminated objects. Ringworm infections are very common and especially prevalent among people who are in close contact, such as day cares, schools and gyms.
Types
Ringworm is commonly associated with the ring shaped rash. Ringworm infections, however, can occur in many different forms. Athlete's foot is the familiar name given to a ringworm infection of the foot. Likewise, a ringworm infection of the skin in the groin region is more popularly called "jock itch." Ringworm infections of the hands, trunk of the body, scalp and nails are also possible.
Features
Fungi tend to prefer damp, dark, moist places---and the dermatophyte fungi that cause ringworm are no exception. Ringworm infections are more likely to occur in areas that contain skin folds or creases such as between the toes and fingers. Dermatophytes need keratin to survive, and keratin is found only where there is dead skin, hair or nail cells. Because these fungi can't live without keratin, ringworm infections do not occur in other areas of the body.
Effects
The skin rash associated with ringworm has a raised border, red or pale center and is often in a circular shape. The rash is typically itchy and there is generalized swelling in the area. Several patches of infection often occur at the same time. If ringworm infects the head or beard, it may result in a circular bald patch that is itchy and crusty. Infection in the nails leads to discoloring, cracking and crumbling of the nail.
Considerations
Although widespread in children, ringworm infections can occur in individuals of all ages. The fungi that cause ringworm can live off the keratin in skin or hair cells for an extended period of time. Items in contact with an infected person or animal, such as bed linens, combs, towels, floors, soil or furniture are possible sources of infection. Domestic animals like dogs and cats may also contract the infection and pass it on to other animals or people.
Prevention/Solution
The best way to prevent ringworm is to avoid contact with infected people and animals. Never share personal care items like towels, shoes or combs with another person. To prevent athlete's foot, always wear shoes in public showers, gyms or locker rooms. Ringworm is treated with anti-fungal creams or oral medications. All linens, clothing and other items an infected individual has come in contact with must be washed with an anti-bacterial or anti-fungal soap to prevent further infection.