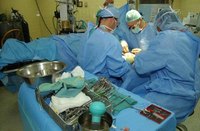 Plastic surgery has become increasingly popular in recent years as more emphasis is placed on exterior appearances. A thin, fit body portrays youth and vitality and is highly desirable for many people. A mini tummy tuck is a popular, minimally invasive procedure that removes excess skin and fat from the lower abdomen and results in a smoother, flatter stomach. This can be a solution for people who have tried in vain to achieve a smooth abdomen through diet and exercise alone.
Significance
The ideal of a thin, flat stomach is something many people never achieve. Try as they might, no amount of diet and exercise can perfect that ideal body type. A mini tummy tuck gives that smooth, defined appearance without the stress of a strenuous diet and exercise routine. Complete abdomioplasty procedures scar the patient from hip to hip, while mini tummy tucks only leave a small scar above the pubic area. The combination of a flat abdomen with minimal scarring makes this one of the most popular plastic surgery procedures for those concerned with their abdomen.
Function
A partial abdominoplasty involves small incisions in the lower pelvic area that loosen the skin from the muscle. The abdominal wall muscles are then stitched back together if they are severely separated, and any excess fat is removed from the area. The skin is then pulled tight and the excess trimmed away. The incisions are then stitched back together, and the patient's belly button location adjusted if necessary. This procedure is performed under the direction of a licensed plastic surgeon in a surgically sterile medical office.
Considerations
A mini tummy tuck, although less invasive than a full tummy tuck, is still a complex surgical procedure. Proper preparations must be taken to make sure the surgery goes well and healing time is minimal. Be sure to eat right and don't exercise excessively in the week prior to the surgery. Keep a supply of loose clothing on hand, as well as a few ice packs in the freezer. Recovery will take weeks for most patients, although a gradual return to normal activities is possible within 10 to 15 days. Also, the procedure is not cheap; it typically costs at least several thousand dollars.
Benefits
Abdominoplasty is by far the most effective way to a thin, flat stomach. The surgeon can sculpt and manipulate the abdomen into the ideal shape and form according to the patient's body type. These results are rarely achieved, even for naturally thin, fit people. Tummy tucks also help to tone and strengthen the abdominal wall for those who have had excess stretching of the walls, such as pregnant women. The surgeon will pull the walls back together and lace them back together with a series of strong stitches, restoring proper anatomical structure and strength.
Warning
Mini tummy tucks should never be dismissed as minor surgery. While the procedure might be minimally invasive, it is still a major surgical procedure complete with anesthesia and recovery time. Care should be taken to avoid undue mental and physical stress post-op to speed recovery time and avoid complications. Infections and blood clots sometimes occur.