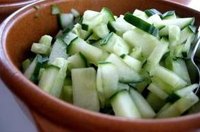 Forget soap! You don't need commercial products to wash your face. Many healthy options are available that use everyday items to address such issues as oily skin, dry skin and blemishes, or simply a desire for gentle, natural cleansing. Since the items are inexpensive and are often already in your home, you can easily try different recipes to see which ones provide the best results.
Considerations
With all of these recipes, it's best to begin by steaming your face with very warm water or applying hot compresses to open pores before applying the different mixes. Afterward, you can rinse with either a damp cloth or just water.
Significance
Cucumbers are recognized for their refreshing, skin-reviving quality. Cucumber slices are a commonly recommended rejuvenating agent for tired, puffy eyelids. For a facial wash, puree half a small cucumber and add 1 tbsp. of plain yogurt, then apply. Yogurt, as well as milk, provides calcium and protein to skin. An alternative involves substituting 1 tsp. of honey for the yogurt. Honey is an antioxidant, and the darker it is, the more beneficial ingredients it has. Honey also helps make skin smooth.

Types
Facial scrubs are excellent for removing dry skin flakes and smoothing a person's complexion. They can be applied and scrubbed away immediately with your fingertips or left on for 15 minutes. A strawberry face scrub, for instance, uses a handful of mashed strawberries, 1 tsp. of lemon juice and 2 tsp. of milk. Test a bit of mashed strawberry in a small area first, because some people's skin is irritated by this fruit, even if they have no problems when eating it.
Expert Insight
Commercial oatmeal scrubs are popular, but you can easily make one at home for less money and without artificial chemicals. Two tbsp. of oatmeal mixed with 1 tbsp. tablespoon of milk and 1 tbsp. of lemon juice is all you need. If you have oily skin, you might want to try adding 1 tsp. of witch hazel. Witch hazel extracts can be found in natural-food stores, if you prefer to avoid the ones with alcohol that are commonly found in drugstores.
Benefits
Facial masks are great for tightening pores, loosening blackheads, drawing out toxins, and general cleansing. One mask uses cornmeal mixed with just enough water to form a paste. Apply, allow to dry, then rinse. Raw eggs also are perfect for face masks. Beat one egg with a little water and dark honey, then rub the mixture onto your face, allow to dry, and rinse. A teaspoon of olive oil can be included in these masks to add suppleness to dry skin.