Your love of children has encouraged you to make caring for them your career. You have decided to begin a daycare center, providing love, safety and education to small ones while their parents are off at work. Once you have found the perfect location for your center, you can begin the exciting prospect of designing and decorating inside.
Types
There are two distinct types of daycare providers. One is in-home daycare, which is provided in the home of either a licensed or an unlicensed provider. The second is a licensed center that operates as a private business in its own, distinct building. If you have an in-home daycare, your design options are likely limited. You may be able to design a playroom or incorporate pieces into your home, such as storage cubbies or bright colors. With a licensed daycare center, you will be able to design the entire interior.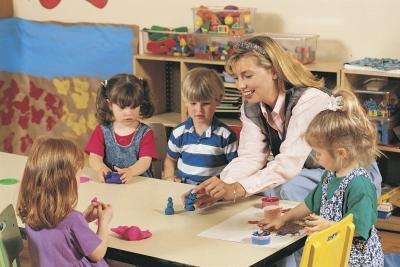 Features
One main feature of designing a daycare center is a color palette. Many daycares choose a standard set of primary colors, and use these throughout the center. While these colors are practical and appropriate, consider other colors as well. Red, black and white are highly contrasting, capturing the attention of children and even babies. You may want to use different color palettes in various rooms or areas. Blues and pale greens, for example, are soothing colors, making them a good choice when designing a nap area.
Size
The size of your daycare center will largely factor into your design choices. If you have acquired a large building with many rooms, you can design classrooms, activity centers, eating and napping areas and more. If you are limited to only a few rooms, you simply need to be creative. No matter what size the center is, you want to design a center that influences learning. Install child-size bookshelves and storage bins that encourage children to pick up books and educational toys. The center needs to be welcoming, so incorporate comfortable, colorful furnishings and floor coverings.
Considerations
If you currently have a staff and existing clients, involve them in the center's design. Parents know what their children love, and daycare teachers and aides can add fresh, exciting ideas. Make sure your building meets any state and local requirements. For example, you might need to have a certain number of employees if your building is over a set amount of square footage. Also, even though kids can be hard on furnishings, stay away from unfriendly-looking, industrial or institutional pieces.
Benefits
Create comfy corner areas with fluffy blankets, oversized pillows and floor seating, such as bean bag chairs, for children who need a little alone time. When designing seating areas for eating or learning centers, choose furniture pieces that can be broken down into more manageable sizes or put together for large group activities. Hang everything from artwork to bulletin boards and chalkboards at a child's eye level. This will help you engage the children more easily.