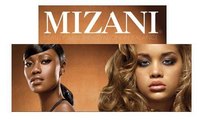 If you don't have the time to go to a professional stylist, you'll need to create a hairstyle on your own. With unruly and uncooperative hair, you'll probably search for products that can help you reduce the time and work involved in achieving the best look. Mizani hair relaxer can help you create some of the easiest styles without the help of a professional stylist.
Function
Mizani hair relaxer is used to alter your hair's texture. It can be applied to your hair roots where new growth appears. After applying it, the texture of your hair will appear straighter and flatter. Since this process will not permanently make your hair texture look this way, you'll need to periodically apply Mizani hair relaxer to achieve the desired appearance. A common term used to describe the process of applying hair relaxers is called "relaxing."
Types
There are two main versions of Mizani hair relaxer for you to choose from. To provide more moisture, cocoa butter, and a lower pH balance than other relaxers, the Butter Blend product line can be used to "relax" your hair texture. If you don't have a sensitive scalp, then you can use the traditional Mizani hair relaxer line named Classic Rhelaxers.
Features
One of the best features of Mizani hair relaxer is that it leaves your hair feeling more manageable. Temporarily "relaxing" your hair texture will provide you with a way to wear your hair in a variety of fashionable styles. When you're in the mood for a straight and carefree look, just simply wash and blow dry your hair to get the desired look. Wear a frizz free, curly hairstyle by using a roller set and hair dryer. Mizani hair relaxer takes the frizz out of your hair texture to produce a more stylish appearance.
Benefits
Using Mizani hair relaxer allows you to spend less time styling your hair. Hair that hasn't been previously "relaxed" can sometimes become time consuming. Despite the fact that you can temporarily straighten it with a flat iron, you'll usually have to take a longer time to do so. With Mizani hair relaxer, you're one step closer to achieving a much simpler styling process. After washing your hair, you'lll be able to blow dry your hair straight and skip the flat iron step if you want to.
Warning
Although Mizani hair relaxer makes products for your sensitive scalp or to prevent excessive hair breakage, it still should not be overly used. If you consistently overlap the periods for "relaxing" your hair texture, Mizani hair relaxer will place your hair in a brittle state. Instead of achieving a healthier and more manageable hairstyle, you'll encounter hair roughness, dryness, and possible bald spots.