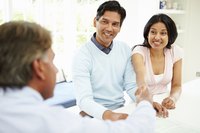 You may be well served by hiring a financial planner to help you navigate the world of investments, taxes, insurance, retirement and estate planning. Before doing so, be certain your potential advisor has your best interests at heart and understands your goals. Prepare a series of questions that will help you evaluate her skills and reveal her ethics.
Benefits
You will benefit from hiring a financial planner who has experience in the areas that are important to you. What are her main areas of expertise? If you want a planner skilled in estate planning, you may not be satisfied with one who only deals in insurance. Find out how long she has worked in her chosen field. How many clients does she currently serve? Can she provide you with references?
Considerations
Ask what professional designations your prospective financial planner holds. Certified Financial Planners, for example, must complete 30 hours of continuing education every two years. The National Association of Personal Financial Advisors requires its registered advisors to spend 60 hours every two years in the classroom.
Identification
Question the financial planner about her services. Will she assemble a comprehensive plan in writing that addresses all of your financial goals? Will you be contacted regularly with updates regarding the status of your investments? Will the planner work one-on-one with you, or will you be serviced by a team of associates?
Types
Ask how the financial planner will be paid. There are three common types of payment structures: fee-only, commission-based and fee-based. The fee-only planner charges either a flat rate or an hourly rate to set up your financial plan. She has no vested interest in selling you particular investments, such as Fidelity or Met Life products. The commission-based planner receives a commission for selling you a particular company's products. The fee-based financial planner may earn a commission and also charge a fee for her services.
Warning
Does the financial planner have any outside interests that may conflict with her ability to provide unbiased service? For example, does she receive extra business by referring clients to a particular insurance agent? Has any disciplinary action been taken against your prospective financial planner? Are there any complaints currently pending against her? The National Association of Securities Dealers maintains records of complaints issued against financial planners. Your state insurance department and the Securities and Exchange Commission also function as regulatory agencies. Ask which state or federal agency regulates your particular financial advisor.