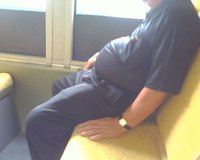 A pot belly is a protruding stomach. While it is generally assumed to be a function of excess weight, too much good food is not the only reason that you may have a pot belly. However, regardless of how it got there, a pot belly is not a healthy accessory. To reduce or eliminate your pot belly, you must understand how and why it materialized in the first place.
Types
There are several different types of pot belly. Some are caused by the body storing excess fat in front of the stomach, and this is actually the most common type. However, weak abdominal muscles, poor posture and digestive disorders such as constipation can also cause a pot belly. Occasionally, pot bellies can indicate the presence of tumors or other growths.
Function
A pot belly does not serve a helpful purpose, but there is a reason that your body may have "put it there" in front of you. The presence of a pot belly on an otherwise fit person can indicate an issue with fat deposits in the area. These often can only be removed by liposuction. More frequently, however, a pot belly indicates that your body is no longer dispersing excess weight but is concentrating it in one area, and you need to change your diet and exercise to counterbalance this issue.
Features
Pot bellies have several distinct features. Obviously, they stick out in front of you in your abdominal area. They tend to be hard and feel solid, even when you have not eaten. Unlike a "jelly belly," a pot belly will feel relatively firm under your hands. If your pot belly is caused by a gastrointestinal issue, then it may be tender when touched or prodded.
Misconceptions
Because men in particular develop pot bellies as they age, many people think that there is little to be done about a pot belly. Also, the term "beer belly" encourages people to think that this type of focused weight gain is an inevitable part of aging. In fact, a targeted abdominal exercise regimen combined with a healthy diet can help you shed your pot belly in much less time than you might expect.

Warning
Pot bellies can be caused by medical conditions. A pot belly can indicate gastrointestinal distress in the form of irritable bowel syndrome, inflammatory bowel disease and gastroparesis, a type of nerve damage that affects the stomach. Sometimes certain types of cancer manifest themselves by creating a pot belly as well. If you have not had your pot belly examined, consult a physician to rule out medical causes for the protuberance.
Prevention/Solution
The best way to avoid getting a pot belly is to get plenty of exercise and eat a healthy diet. If you already have a pot belly, then consider changing your diet to eliminate artificial sweeteners and foods that cause gas, like broccoli and cabbage. Also start a targeted exercise routine that focuses on toning your abs underneath the fat of the pot belly while burning off the excess weight. Good posture can also take serious inches off your pot belly in a matter of minutes if your belly is not just caused by excess weight but rather by weak abs or habitual slouching.