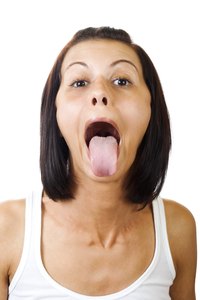 The tongue is no mere extension of skin -- it's a multipurpose organ in its own right. While its chief function is tasting the substances animals take into their bodies for nourishment, it participates in other important activities as well. As with other anatomical structures, it has evolved to undertake these functions to different degrees in different organisms.
A Matter of Taste
The dorsum, or upper surface, of the tongue has thousands of tiny projections called papillae. Toward the front, these are narrow and high, while toward the back they are much wider and flatter. The epithelial tissue lining the papillae contains taste buds, which resemble tiny flasks open to the mouth cavity. When food particles reach the taste buds, they come into contact with gustatory cells located within the buds; this sets off a neurochemical cascade that ends with the transmission of taste-specific information to the brain. The result is the perception of the food in the terms we describe it today -- sweet, sour, salty or bitter.
A Digestive Aid
The tongue consists mostly of powerful, smooth muscle, and is anchored to the floor of the mouth and to the hyoid bone of the throat by sturdy ligaments and other connective tissue. Because it can move freely in many directions, it can both crush food into smaller, more easily ingested portions and aid in swallowing by conveying food backward into the throat cavity. In addition, the underside of the tongue is highly absorptive thanks to a large plexus of veins there, allowing some medications to be taken sublingually rather than swallowed outright; nitroglycerin is one such example.
Let's Talk About It
Humans are the only animals that communicate using complex, sustained utterances. Were it not for the tongue, speech as we know it would be impossible. Working together with the teeth and the lips, the tongue helps humans generate up to 90 distinct words per minute and can move in an astonishing 20 separate directions. Without the tongue, the English alphabet would not include hard consonants such as "d," "t" and "k" or soft consonants such as "l" and "r."
What a Sensation!
Though perhaps not typically regarded as a sensory organ beyond taste, the tongue is more sensitive to touch than any other part of the body. Consequently, it is vital in determining, for example, whether something taken into the mouth is safe to eat -- if it is too hard or too sharp, the tongue sends this information to the brain, which decides whether to swallow the item. The tongue is also adept at sweeping through the mouth to probe for occult particles of food that may remain after swallowing.