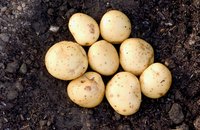 U.S. potato farmers combined to produce more than 40 billion pounds of this starchy diet staple in 2012, with the largest percentage of the crop appearing in your diet in the form of french fries and fresh potatoes, which you can then serve mashed, boiled or baked. Although potatoes are a source of nutrients, beware of eating them too prolifically, as they're also a significant way to add calories to your diet.
White and Red Potatoes
A large, 13-ounce white potato, including the flesh and the skin, contains about 255 calories, according to the U.S. Department of Agriculture. A medium, 8-ounce white potato has 147 calories. The calories in red potatoes are nearly the same, with 258 calories in a 13-ounce red potato and 149 calories in an 8-ounce red potato. Avoid adding butter to your potato dish to keep the meal's caloric value under control. One tablespoon of unsalted butter adds 102 calories to your potato. A healthier choice is fat-free sour cream, which has just 18 calories per 2 tablespoons.