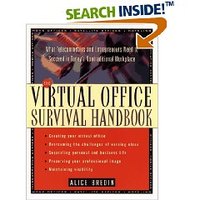 There's much to gain by telecommuting in workplaces of all sizes, for both the business owner and employee. It's used around the world and features two common types--telecommuting from home or from remote office centers.
Significance
As businesses expand across the world, the Internet offers a fast, convenient connection and eliminates geographical hurdles like no other communications vehicle can. Just as easily as it enables an organization to reach new audiences, the Internet brings a business owner together with staff, partners and valuable clients. This level of connection has brought about the concept of "telecommuting." More businesses are considering telecommuting as the next step in the Information Age. Private businesses, corporations and even the United States government have made provisions for telecommuting.
Benefits
The concept of telecommuting has the power to increase overall productivity, strengthen business relationships and enrich employee benefits. For workers who are active parents, have a long daily commute or participate in job-related training, it makes sense for them to telecommute. Not only does it improve company efficiency, but this benefit enables the telecommuter to save money on gas and transportation. For employees who work in cubicles or high-traffic areas, they'll find opportunity to focus and get more accomplished without the usual distractions. The Environmental Protection Agency has asserted that the U.S. could conserve 5 million gallons of fuel every month if a mere 10 percent of the U.S. workforce telecommuted once a week. Business owners may see a difference in overhead energy costs for running computers, heating or cooling and electricity for the building.

Effects
The American Consumer Institute Center for Citizen Research claims that telecommuting is an essential solution for offices becoming more "green" and dramatically reducing greenhouse gas emissions. It's also easier for employees to maintain more consistent work hours, now that there's no time lost in traffic. Other effects include positive feedback and a sense of loyalty from employees. For instance, a great number of workers would rather have the option to telecommute instead of receiving higher pay and/or more premium benefits. In the long term, managers find that telecommuters are more satisfied with a healthy work and personal life balance.
Geography
Millions of people around the world have been enjoying the benefits of a virtual workplace. Companies with offices in multiple cities are discovering the savings of telecommuting. Many of us are already plugged in 24 hours a day--by email, handheld mobile devices and other technologies. By taking advantage of the opportunity already there, organizations are enriching the way they do business.
Function
For the most part, telecommuting usually takes place from home. This kind of setting is perfect, as most employees are already set up with a computer, Internet access, telephone and any other basic office equipment. In the case of U.S. government employees, there is also the option of remote office centers. Typically, it is a leased space that is shared by several companies. The opportunity has minimal costs, and it allows employees to still have the social interaction that's missing from a home office.