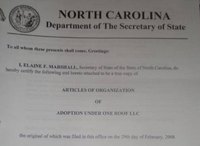 Incorporating a business is not difficult to do. The benefits of incorporating are huge, particularly in industries in which the business is likely to be sued in court. Whether your business is incorporating as a C-corporation, an S-corporation, or a Limited Liability Company (LLC), the steps involved in incorporating are similar.
Benefits
Incorporating a business protects the owners of the business from being held personally responsible for the debts of the business. The State views an incorporated business as a separate legal entity, so if the business is sued, then the owners of an incorporated business do not need to worry about having to pay any judgments out of their personal accounts. Incorporating a business has tax benefits as well.
Type
Businesses that are considering incorporating have a few options from which to choose. A traditional type of corporation is called a C-corporation. Smaller businesses often prefer incorporating as an S-corporation because of the tax benefits. A Limited Liability Company (LLC) is a third way of incorporating, which has many of the same benefits as an S-corporation with less rigorous requirements. A business should review the pros and cons of each option before choosing which method of incorporating best meets the business owners' needs.
Features
Incorporating a business involves drafting the Articles of Incorporation or Articles of Organization (for LLCs) and filing them with the Secretary of State's office in the state in which you are incorporating. The Articles must include the business name and address and the registered agent's name. Additional information might be required for different states or different types of corporations.
Time Frame
The length of time involved in incorporating a new business varies from state to state as well as with the type of corporation you want to form. The incorporation process can take from a few days to several weeks, depending upon the state that you choose. Many states will expedite the filing service with payment of an additional fee. The state might return a request to incorporate if a similar name is already incorporated in that state, so make sure you choose a unique business name.
Significance
Incorporating a business turns that business into a separate legal entity from those that own and operate the business. To maintain corporate status, the members or shareholders must comply with certain regulations for that particular type of incorporation. For example, an incorporated business must keep business records, hold periodic meetings and issue shares to the business owners. In return, the incorporated business enjoys various benefits, such as being able to deduct certain expenses as business expenses.