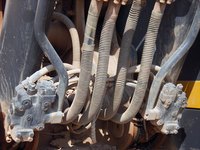 Stainless-steel braided hose is a terrific alternative to annealed tubing in certain installations. When having to get into a tight space to connect instrumentation or around intrinsic mechanical systems, connecting braided hose is as easy as getting water to the garden. Rated to handle pressures from 500 to 3,000 psi, the stainless-steel reinforced Teflon tubing can handle even the most corrosive or caustic processes. Available with a variety of swaged fittings, braided hose is a great way to get a job done quickly and efficiently.
Tube Ends
Braided stainless-steel hose can come with swaged (pressure crimped and sealed) fittings of equal-sized tubing sections. These fittings allow the flexible and versatile braided hose to go the distance in an application and yet use a stainless-steel tube fitting to secure to the instrument or machine. Coming in sizes ranging from 1/4 inch to 1 inch, these fittings are rated to handle whatever pressure the hose will contain. Tube ends are recommended for applications needing secure permanent fittings and not requiring frequent disconnects.
Threaded Fittings
Threaded fittings can also be swaged to braided hoses for quick installations. Coming in national fine thread, national pipe thread or metric threading. Using threaded fittings means both quick connections and easy disconnects for draining, maintenance or replacing hose sections.
Threaded braided hose fittings come in both male and female configurations and can be tailored to specific applications. Although any threaded application runs the slight risk of loosening or leaking over time, the advantage is the threaded fitting can quickly come apart with just a wrench. Also, threaded fittings mean braided hose sections can be moved to different locations. A braided hose can be used to alternate between different feed sources to the same destination.
Quick couplers
Spring-loaded quick couplers are ideal for systems where hoses need to be disconnected or replaced quickly with no tools. Quick couplers are excellent choices in research or product development facilities, where making quick changes between tests or products means less time loss. Also, quick connect couplers work well under the hood of a vehicle to carry oil, hydraulic or coolant to various components. The quick connect makes it easy to access engine components by just clicking and disconnecting the hose and moving it out of the way.
Materials
Stainless-steel braided hose fittings come in a variety of materials. Depending on the application, you can attach fittings made of different stainless steels (cost can also be a factor in choosing); nylon; composite plastics; or more exotic metals (titanium, magnesium and molybdenum).