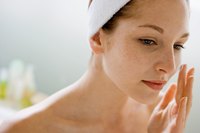 Facial scrubs, also known as exfoliators, are skin care products that contain small particles that slough away dead skin. Refining toners are a type of skin wash that minimize pores and give the skin a smooth, even appearance. Whether you use a refining toner after a facial scrub depends on your skin type, the type of scrub you use and the strength of the skin toner.
Consider Your Skin Type
There are five general skin types: normal, dry, oily, sensitive and combination. If you have normal skin, it means that your skin is balanced and healthy. People with this skin type can use a refining toner after a facial scrub but might not find it necessary. Those with dry skin types should be wary of products that cause excessive dryness. Those with dry skin should avoid toning immediately after using a facial scrub because it can take moisture out of the skin. For those with oily skin, facial scrubs can help to uncover and clean blocked pores. Using a refining toner afterward is beneficial for this skin type, because it helps to close the pores. People with sensitive skin need to be careful when using products like scrubs and toners. Using these two products together will probably cause a reaction in sensitive skin. Those with combination skin should consider only using toner on the parts of their face that are prone to oiliness and breakouts to avoid excessive dryness in the other areas.
Consider the Facial Scrub
Exfoliation helps eliminate dull, uneven skin as well as treat and prevent blemishes. The type of facial scrub you choose to use for exfoliating is a factor in determining whether you should use a refining toner afterward. There are many types of facial scrubs; some use large particles, such as crushed walnut shells, while others use smaller particles, such as rice bran--and the larger the particle, the harsher the scrub will be on this skin. Look on the scrub's label to get an idea of its strength. If the instructions recommend using the scrub daily or several times a week, this indicates that the scrub is gentle on the skin, so using a refining toner in combination with this scrub is not a problem. When the instructions recommend using the scrub once a week, it indicates that the scrub is harsh on the skin. Using a refining toner after a harsh scrub can lead to redness, excessive dryness and other skin reactions.
Consider the Toner's Strength
Refining skin toners come in a variety of strengths geared toward different skin types. When considering a skin toner for use after a facial scrub, select one that is designed not to dry the skin as much. An individual with normal skin, for example, might want to use a toner for dry or sensitive skin. When applying a refining skin toner after exfoliating for the first time, test the toner on a small portion of the face. If there is considerable stinging or pain, do not use that toner.