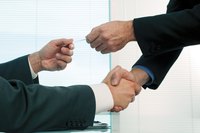 You can make your business cards at home without making them look as if they are homemade. You can create a professional design and print it on pre-perforated business card stock. Make cards yourself if you need to supplement your supply of professionally printed cards, do not require a large quantity in a short period of time or want more versatility.
Card Types
Business card stock comes in sheets of standard sized paper. The paper is perforated and you separate the sheet into individual cards by tearing or cutting along the perforations. Most sheets yield 10 cards. Avoid jagged edges because they send a clear signal that you produced your business cards at home. Experiment with small batches to find the brand and model of card stock that leaves behind the sharpest edge. Note that card stock with smaller perforations can be more difficult to separate. If you pull too hard at the seams, it can cause the card to rip and you will lose money on ruined cards.
Manufacturers produce card stock in various weights and finishes for laser and ink jet printers. Some paper works better with some printer brands and models than with others. While you will likely be successful with any brand, trial and error may be your best method to find the ideal paper that will absorb your ink properly and work best with the mechanics of your printer. The perforations weaken the paper, to some extent, which can lead to more paper jams.
Design
If you are supplementing your supply of cards, simply copy the design from your main supply onto the cards that you make yourself. If you are creating cards for the first time, spend some time developing the look for your cards. Start with the essential information that you want to pass on to the people who receive the card. The type of information will vary depending on whether you are promoting an individual or a business. For a business, you may choose to include the hours of operation or the company slogan. For an individual, you might choose to include a headshot or social networking contact information.
Be sure to use the paper manufacturer's specifications to enter the paper size information into your word processor before making the final design. The exact margins will be crucial to creating a professional look. Several word processing programs will allow you to enter the brand name and model number rather than the dimensions for the more popular cards.
Make your cards memorable in a good way. Use strong, yet simple images. You have limited space, so all parts of the card must work together. There are several sites online where you can download business card templates for free or to purchase. Both Avery, the leading producer of business card stock, and Microsoft, the maker of Word, have templates. Simply substitute your information and logos for the placeholders the template maker used.