Your plain white kitchen ceiling may look clean and bright, but it does nothing to enhance the room's design. Decorative options abound for kitchen ceilings that suit all budgets and styles. Before you begin your ceiling's face-lift, consider the practicalities of the project. If the ceiling is low, beams may make the room feel smaller. A rough-textured ceiling requires significant prep work before you paint or paper it. Most importantly, decide if you can tackle the project yourself, or if you should hire a professional.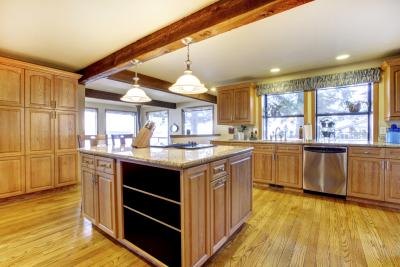 (irina88w/iStock/Getty Images)
Paint is the obvious choice for a simple decorative upgrade. Drywall, plaster and even some ceiling tiles are paintable, so you can give your ceiling a new look without a major remodeling job. Paint the ceiling a color that complements or contrasts with the walls. If you're artistic, transform your kitchen ceiling into a work of art. Stripe, chevron and harlequin designs look chic, elegant or whimsical. To add pattern without painting, cover the ceiling with wallpaper. Look for wallpaper made from vinyl or another easy-clean material in prints that complement your kitchen's style. Choose a large-scale graphic pattern for a modern kitchen, a classic floral print for a more formal space.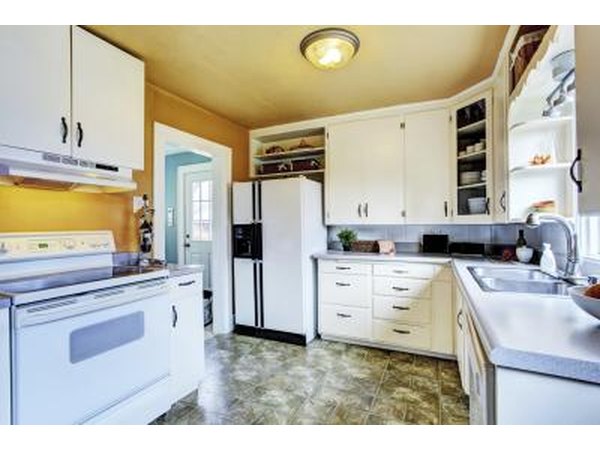 irina88w/iStock/Getty Images
If your budget and home's architecture allows, have a professional open your kitchen ceiling to the rafters. The exposed kitchen ceiling will increase both height and architectural interest. To create a beamed ceiling less expensively, install faux beams made from polyurethane or reclaimed wood. Rustic ceiling beams enhance the feel of a farmhouse or Tuscan kitchen. In a sleeker space, choose black beams with a glossy finish. Plan the layout of the beams, keeping the location of lighting fixtures in mind. A single beam breaks up the monotony of a boring ceiling; an arrangement of evenly spaced beams creates a look that's cozy and traditional.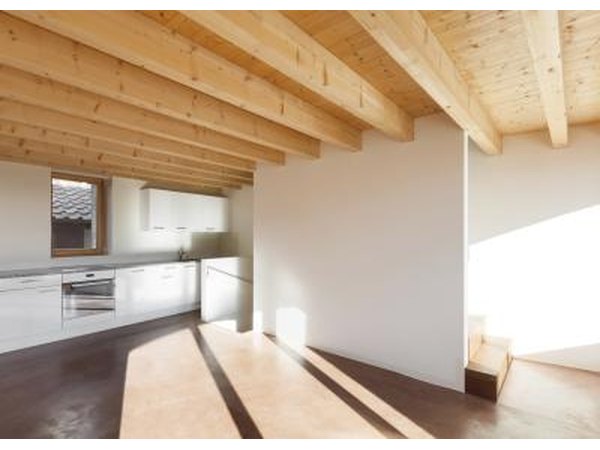 piovesempre/iStock/Getty Images
Install bead-board panels on the ceiling to complement a cottage- or cabin-style kitchen. Tongue-and-groove bead-board panels made from plywood or MDF (medium-density fiberboard) are available at home-improvement stores. Choose pre-painted panels or an unfinished style that you can paint yourself. Before you install the panels, locate the position of your ceiling's joists. You'll have to nail the panels into the joists to fasten them securely. When installing bead-board, fit the panels together snugly and cut out openings for light fixtures. Paint the finished ceiling white, gray or another color that matches the kitchen's decor and frame the edges with molding.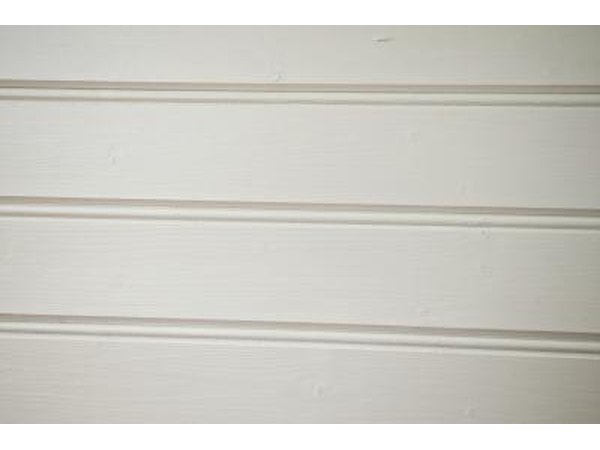 Xerv_II/iStock/Getty Images
In the 19th century, pressed-tin panels were an economical option for homeowners who wanted the look of expensive plaster ceilings. Today, real tin panels can be pricey, but they may be worth the splurge if you want an authentic vintage feel. Tin-look ceiling tiles are a budget-friendly alternative. Easy to install and paintable, the tiles are made from vinyl or mineral fiber. White tiles complement a classic or retro kitchen; metallic tiles look chic and reflect light. If you like the idea of a metal ceiling but your style is more industrial than traditional, install corrugated tin panels instead. Use screws to attach the metal panels securely to the ceiling's joists.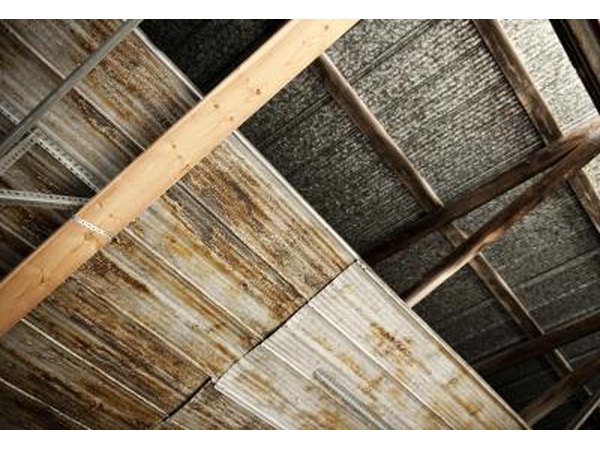 Stacey Newman/iStock/Getty Images
Promoted By Zergnet