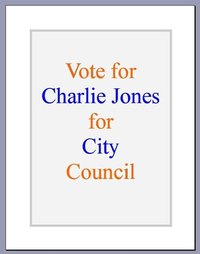 Use signs to build your business. According to Kevin Epstein, you should bring "the message close to the prospective consumer in a form they are likely to see in a repeated way" with a variety of signs.
Create your own signs in whole or part, and you'll save money. Weigh your skills, available time and budget to decide on the method. Choose the materials and get to work.
Do It Yourself with Help
Got ideas but low on skill? Choose from an array of companies willing to give you help to the degree you need, for a price. Create your sign from scratch, or choose from a variety of templates. Customize the color scheme, verbiage and artwork, including your logo online (see Resources).
Locate a Fast Signs (see References) franchise, and you'll find stores with learning centers to help you learn more about the process.
Search the Internet for "signmaker," and you'll get the options available in your area. Compare prices and services to select the best vendor for your needs.

Do It Yourself From Your Computer Printer
Utilize graphics software to create your own signs and banners on your own time schedule. Check the packages on your computer for products such as Microsoft Publisher or Corel Draw. Download free software from sites such as Avery.com (see References) for even more options. Choosing the media is simplified because these templates are designed especially for the company's products.
Begin the process by choosing your desired size. Enter the text and images you prefer. Work on the screen, but remember to adjust your font sizes for the final product size. Preview the finished product and make any needed adjustments before you print.
Print on paper or heavy stock to tape the final product to a surface. Select magnetic sheets or window-cling media for more specialized locations. Add zing to your marketing by taking advantage of the variety of supplies available.
Add a protective layer of adhesive plastic if the sign will be exposed to the elements. Assemble multipanel projects, and you're ready to display your latest sale or event.

Do It Yourself Traditionally
Grab a felt-tip marker or paint brush to create your own signs without technology. Add a picture of the product with a glue stick or hot glue gun. Hold two markers or brushes together as you letter the sign to create more interesting two-color letters.
Expand your media choices by looking around for suitable surfaces to host your message. Dress up franchise templates or mass-produced signs with onsite information for extra pizzazz.

Do It Yourself Finishing Touches
Add movement to your finished sign to attract attention. Use items such as metallic paper fringe, balloons tethered to the sign or other appropriate media. Think beyond paper and ink to decorate your sign and the area around it.