Hockey fans are some of the most passionate sports fans around. Whether they are players themselves, or they just love to watch the mayhem, hockey fans love to express their loyalty to their teams.
Using hockey items in decorating parts of your home is a fun way to celebrate your enthusiasm. You easily can transform a game room, den or bedroom using hockey items and memorabilia. Put a toothless smile on your hockey fan's face with hockey decor in your home.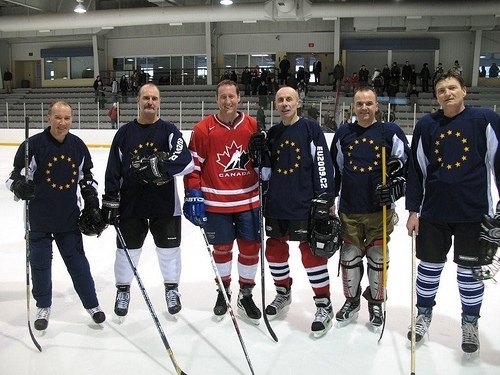 Team jerseys make interesting wall art that celebrates your passion for the team or player. Take a favorite player jersey and frame it in a special box-style frame. Press the jersey so there are no wrinkles and carefully pin it in an open lay out to the back of the shadow-box frame. Close the frame and hang on the wall. Take autographed jerseys to a framing shop and spring for a custom framing job using UV protectant glass to keep your jersey from fading. Once you have one to three jerseys to display, hang them in a group to allow them to have the most impact in the room.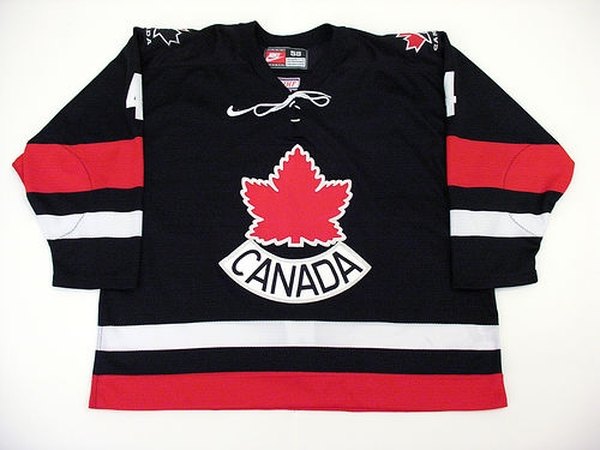 Hockey sticks are instantly recognizable and can add interest to a den or television area for hockey fans. Stretch out two hockey sticks in a parallel manner on a wall and secure with nails or screws. The more battered the stick, the better. You also can hang sticks along doorways or over a door threshold for more interest. To take it to the next level, screw a hockey stick to the front of a standard bookshelf to create the illusion that the stick is holding the books in place.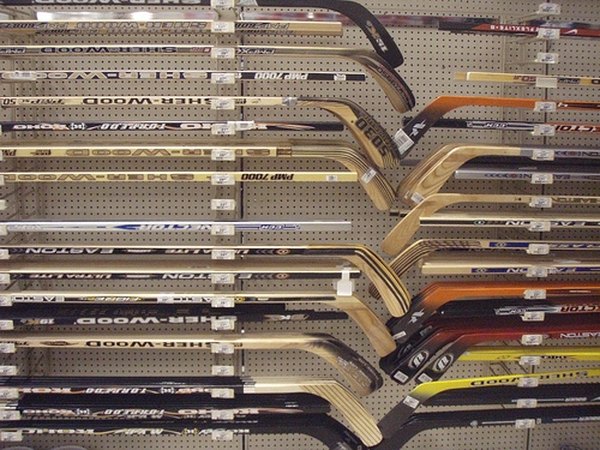 Create your own unique accessories using hockey pucks in your sports room or den. Use super glue, such as Gorilla Glue, to glue hockey pucks to an inexpensive round side table top. Spray paint the table black, then glue the pucks, starting in the center, to the table top to form an interesting puck pattern. Top off with a clear piece of glass to make the surface smooth for beverages and table lamps.
Use the same method to create a hockey puck coffee table, or just use the pucks for drink coasters on your existing furniture. Toss pucks into a large, open-mouthed glass bowl for an interesting centerpiece, or glue mount them around a circular mirror for a funky bathroom look. Be sure to allow all gluing projects to dry completely before hanging or using.
Many hockey teams are more than happy to provide fans with the essentials in home decor for a theme hockey room. Team logo wall clocks, throw blankets, garbage cans and drinking glasses all can enhance your hockey decor for a small price. Choose your favorite teams and then mix and match for a fun look in your game-viewing area.
A hockey-themed bedroom is easy with team or sports bedding. Start with an accent wall in your teams colors, then dress up the rest of the room with hockey-themed linens and a team comforter for the bed. Hang skates and a hockey stick over a desk or mirror, and use hockey posters, murals or cut outs to further enhance the look. Coordinate curtains and an area rug with your teams colors.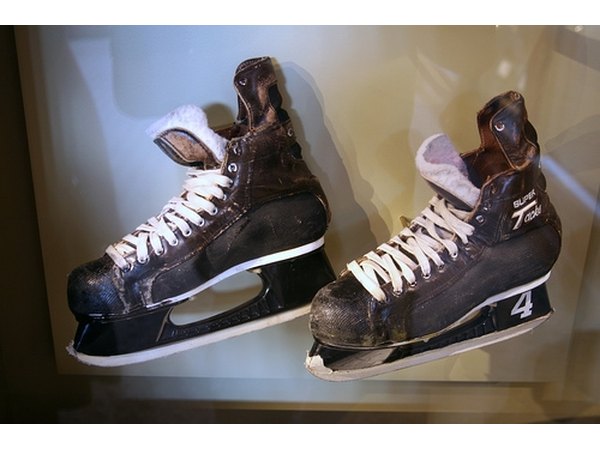 Promoted By Zergnet