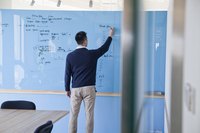 Kaizen isn't an isolated happening or a one-time project, but an ongoing series of events designed to improve business processes by eliminating waste. The word Kaizen means "continuous improvement," and each department-specific event equates to another step up the continuous improvement ladder. Good leadership and a well-developed plan are critical for a successful Kaizen event.
Assess the Current Situation
Kaizen event planning starts by assembling a team that includes a facilitator, the department manager, one or two key department employees and at least one person from outside the department. The team's first task is to assess current processes, looking especially for bottlenecks, redundant steps and work backlogs that suggest a process is out of balance. Employee suggestions and customer complaints may be used to make an assessment of the current situation.
Idea Selection
Select an idea and define what you want to improve. Since the goal is to make just-in-time improvements within three to five days, idea selection is a critical success factor. For example, an idea such as improving first-call resolution rates has a much better chance of success in a Kaizen event than reducing call center attrition. Then describe general goals linked to problem issues. For improving first-call resolution rates, general goals might include increased product knowledge, expanded agent decision-making authority or improved customer-handling skills.
Set Realistic Target Benchmarks
How much you can expect to improve within a Kaizen event time line depends on the issues and problems previously identified. If first-call resolution rates now stand at 60 percent, decide how much you can realistically expect to achieve by expanding decision-making authority and by conducting intensive product knowledge and customer service training during the event. Another consideration in setting benchmark goals is how much training you can reasonably expect to provide within the event's time line.
Logistics and Event Planning Details
Nail down the logistics of the event by deciding when and where to hold training sessions. You'll also need to decide how many employees may attend each training session without a disruption to operations. If enough trained employees from other departments are available to act as temporary fill-ins, class sizes can be larger and training sessions can last longer. Develop a schedule, set the training agenda and secure any necessary training materials. As a last step, distribute schedules to department employees.