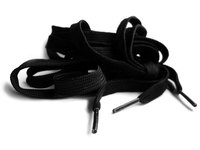 If you are using flat shoelaces to secure your shoes, you may be surprised to learn there are many clever and fashionable ways to tie those shoelaces. Using these creative techniques can be a fun way to express yourself and stand out from the crowd. Tying shoes consists of two major parts: lacing, that is, running the laces through the holes in the shoe, and knotting, tying the two laces together at the top.
Criss-Cross Lacing
Criss-cross lacing is probably the most common type of shoe lacing. To create a criss-cross lacing style, run the lace straight through the bottom 2 eyelets in the shoe, and then cross the laces one over the other. Continue until you reach the top eyelet. This provides a very traditional look, is comfortable, and is easy to do.
Ladder Lacing
The ladder style is a little more creative, and gives a striking look. Like the criss-cross style, the lace runs straight through the bottom two eyelets. However, the laces then run straight up into the next eyelet, not crossing one over the other like in the previous style. They proceed to run under the eyelet, and then straight across and under the vertical section of the other lace. From here, the laces run straight up again, and the process is repeated. This style provides a great deal of tightness, but is also more difficult to adjust than other styles.
Zipper Lacing
The zipper style is another visually striking option for tying your laces. Run the lace straight through the bottom 2 eyelets, as you did with the previous styles, but then loop the two ends beneath the horizontal section of shoelace. Cross the laces over each other, and run them beneath the next eyelet. Repeat this until the entire shoe is laced.
Knots
Many types of knots give your shoes a distinctive look. A popular one is the surgeon's knot, in which the two laces are looped around each other several times to make a complicated, bunched-up knot. Another knot style is the freedom knot, in which a large loop is made and the two lace-ends twist around each other at the top.