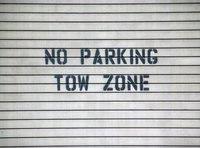 Chicago has regulations on when and where vehicles may park; these regulations are usually posted on signs and pertain to both personal and commercial vehicles. All the rules for parking may be viewed as the Great List of Ways To Get Your Truck Impounded. Getting your car out of an impound lot can be a few hundred dollars, so it's worth it to be aware of the rules and abide by them.
Winter Parking Rules
The most recent rule on parking trucks and vehicles to bite Chicago residents is tied to snow removal regulations. In 2009, Mayor Daley signed an ordinance declaring roughly 5 percent of the major streets in Chicago to be no parking zones if the snow is greater than 2 inches deep. The reason is to make sure the city's snow clearing equipment can begin removing a Midwestern blizzard. The first night the ordnance went into effect, the city towed nearly 250 vehicles. Fortunately, these snow emergency parking spaces are clearly marked.
Eighteen-Wheeler Ban
Trucks weighing more than 4,500 pounds (18 wheelers) are prohibited from on-street parking in Chicago. This ordinance is in place to help curb traffic congestion and preserve the residential feel and safety of Chicago neighborhoods.
Parking Rules For Commercial Trucks On Commercial Streets
For vehicles lighter than 4,500 pounds and that are clearly marked as being the agents of a commercial venture, be it moving, delivery or service provision, or junk haulers, parking on streets zoned as commercial can be done while making deliveries or providing services to customers. An electrician may park his vehicle where he's providing service. A delivery vehicle park when in the process of loading and unloading. Leaving a vehicle parked on a commercial street for longer than the service takes can result in the vehicle being towed.
Parking Rules For Commercial Trucks on Residential Streets
Some wards do not permit commercial trucks to park in residential areas, others permit it with appropriate permitting. To get the most up-to-date list of ward-by-ward regulations on where commercial trucks can park, contact the City Clerk's Office and ask to talk to Parking Enforcement. As of mid 2010, the list of wards that auhorize residential parking permits for commercial trucks are 1,9,10,12,13,14,15,16,18,19,21,22,23,24,26,27,28,29,32,33,35,37,40,42,43,44,46,49 and 50.