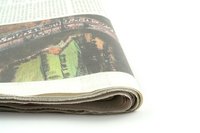 A monthly newsletter is a time-honored way to communicate news to customers. It's also an effective advertising vehicle. It can vary in format, content, size and method of distribution. It can consist of a single page or multiple pages. It can be emailed or sent through the postal service. No matter what form a newsletter takes, it can be a useful tool for staying in touch with internal and external customers.
News
As the name states, a newsletter should contain news--noteworthy content. It should be easy to read and valuable to the reader. It can include new-product information or important updates about the company. An assortment of articles of varying lengths should be included to keep the readers' interest. It can feature information from contributing professionals and articles by experts on various subjects.
Tips
A way to improve the shelf life of a newsletter is to include a column of helpful hints and tips about a subject. Readers may keep the newsletter if it includes information relevant to them, or they may pass it on to someone who may benefit from it. This column can be regularly updated to reflect changes in your business, or it can just cover random topics, which adds interest to the publication.
Updates
For a newsletter to be timely and engaging, it must include current information. If it includes breaking news or information about an upcoming change, people are more likely to read it to appear knowledgeable and informed about a subject. This can give readers a feeling of inclusion, which helps build company loyalty.
Pictures
Using photographs in a newsletter is a creative way to add interest. Pictures break up the sections of the publication into manageable, readable sections. By including pictures of company officers, readers can put names to faces and feel a greater connection to your organization. Recognizing employees for their performance and publishing their pictures in newsletters can help boost morale.
Content
A newsletter should include contact information for its publishers. This way readers can submit comments, questions or suggestions. If readers feel as though they're being heard and that they can contribute content, they're more likely to read future issues and feel vested in the publication and in your organization.