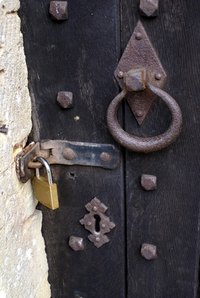 Commercial locks are an important business investment, especially for stores with valuable merchandise, such as electronics and jewelry, that are readily visible to the public. The location for the establishment also determines how heavy-duty you need to have the locks. If the area has high crime rates, you will need a deadbolt, exit control lock or alarmed lock in addition to standard door knob locks.
Exit Control
An exit control lock is one of the main types of commercial door locks and is for the back door. It must follow code regulations. You can find types that are easy to install, are attack and corrosion resistant (cast aluminum housing), and battery operated (can be converted with an optional battery eliminator kit).
Versions are available with an exit bar sign in English, French, Italian, Chinese, Dutch and German. Types of exit control lock can come with a high decibel alarm horn and a saw-resistant deadbolt (with 1-inch throw) to prevent burglary. There are also versions with an outside key control. Make sure the lock adheres to the ADA (American Disabilities Act) requirements.
Alarmed Rim
The alarmed rim lock is simple to install. There are options for models that are water and weather proof, and surpass code safety requirements. Locksmiths usually house them in a tamper-resistant casing that protects the internal hardware, electronics and battery. They come with visual and audible alarms (100 and up decibels).
Card Reader
Card reader locks are a convenient way to lock and unlock your commercial space. They are sleek and upscale, yet weather and vandal resistant. These locks require the card readers to be either swiped or touched by the card. They generally have an alarm or LED light to indicate if access is granted.
Fingerprint Lock
If your space needs additional security or you do not want the hassle of keys, choose a high-tech fingerprint door lock. The fingerprint door lock uses biometric technology to sense your finger´s unique print and matches it to a database of fingerprints on file that have access to the room. It stores approximately 100 fingerprints and automatically turns on (from sleep mode) when you place your fingerprint on its sensor. The lock typically fits standard door thicknesses of 1 3/8 inches to 2 inches. This lock also has key override access for emergency entry.