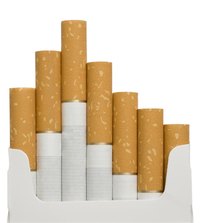 We live in an era where we have enough science to prove that cigarettes and smoking in general have negative consequences. The long-term effects of smoking include health issues ranging from emphysema to a variety of different cancers. Many of us know smokers or are smokers ourselves, struggling to kick the habit. Anti-smoking posters may seem like an ineffective method of advertising, but when done creatively, they can make a big impact on their audience.
Using Statistics
Using statistics is not only attention-grabbing, but it can make a real impact on any target audience. Look up statistics on smokers that have shock value, such as how many people die each year or how many people are diagnosed with cancer due to smoking. Just one of these facts enlarged on a poster will cause people to stop, read and take in the overall message of the advertisement.
Pictures of Organs
While it may seem morbid or even disgusting, you could create another eye-catching poster displaying the results of smoking on the body. A picture of a tar-black lung or a damaged heart with a caption describing the photo can have lasting shock value. By being daring in your advertisement, you may be able to persuade a few smokers who view your poster to kick the habit.
Before and After
Before-and-after posters are another morbid but effective way to capture attention and persuade your audience. A picture of a person before smoking and after smoking for a number of years has shock value and the potential to persuade users to quit. Playing off of the idea of organs, showing a healthy lung next to a lung of a heavy smoker is another way to get your point across. If you convince just one person to quit with your ad, you can consider your campaign a success.