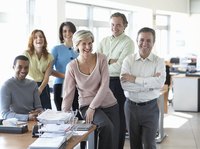 Teams don't become effective just because you want it to happen. A certain comfort level among team members is a prerequisite to successful collaboration, particularly when you bring together people who haven't worked together in the past. Team building warm-up exercises can break the ice quickly and increase that comfort level.
Make Introductions
Acquainting team members with one another is an early hurdle in team building. Ask people to introduce themselves with their standard descriptions of their capabilities and then assign them to interview one another to ask unusual questions. One approach is to hand each team member an envelope with a question inside and task the person with uncovering everyone's answer to that question within a few minutes. Such questions can cover a favorite animal, sports team, selected childhood memory or professional achievement.
Share Skills
Business leaders may find it helpful for warm-up exercises to reveal the skills of the team members. For example, make a list of attributes; some can be duties valuable for a particular project, while others can be generic or fun items like visiting the company benefits page or the ability to run a marathon. Team members locate someone in the group for each attribute and write down names for as many attributes as possible. This not only gets people talking to one another -- it lets everyone know who can do what. If part of the team's work involves Web development, for example, this is a way to let others know which team members have the specialized skill needed to complete the work.
Group Efforts
Warm-up exercises can take the form of a group challenge. Give the team members a business case to solve in a short time and require them to work together for the solution. If you have a large group, split everyone into groups of three to five people and assign a facet of the problem to each group. Everyone participates, which energizes the group for the work that lies ahead.
Remote Teams
Remote work teams offer their own challenges for team building. While face-to-face meetings are invaluable, bringing your team together virtually presents opportunities to encourage comfort and camaraderie among team members. Use collaboration tools to facilitate warm-up exercises like introductions or games using online chats or other connecting tools. If you have some participants in remote locations and others on site, include the input from the remote members first and avoid spending all the time and attention on those team members in the room.