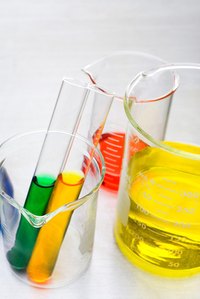 Glassware is used in laboratories for a variety of experiments with chemicals and mixtures, as glass can be heated and cooled without it affecting the glassware itself. However, since glassware is breakable and some experiments use volatile chemicals that can harm those working within the laboratory, it is important to follow certain safety precautions.
Safety Goggles
Safety goggles should be worn when using glassware to protect your eyes from pieces of broken glass possibly being launched through the air. Heating and cooling glassware excessively can cause it to break, as can the chemical reactions occurring within the glassware itself. When this glassware breaks or explodes, shards of glass can be sent airborne, which becomes hazardous. These goggles should cover your eyes and the area around your eyes, preventing glass from getting into them.
Condition of Glassware
Inspect all glassware before using it. If the glassware is chipped or cracked, do not use it. If the glassware is dirty, clean it before use and then reinspect it. Never immerse heated glassware in cold water, as it may shatter. Also, secure glassware whenever it is being used, minimizing the chance of it rolling off the lab table and breaking or even falling a short distance and cracking. Dispose of any chipped or cracked glassware in a glass recycling receptacle.
Glass and Rubber Stopper Safety
Inserting or removing glass tubing from rubber stoppers can be dangerous, as the glass can crack, splinter or break, lodging in hands or eyes. To lessen any chance of this, lubricate glassware before attempting to insert a rubber stopper. Whether or not the glass has been lubricated, your hands should be protected with paper towels or rubber gloves so you can minimize the chance of the glass cutting you if it breaks. If a piece of glassware won't come out of a rubber stopper, talk to an instructor (if in a classroom) or ask for help from someone else so you don't break it and risk injuring yourself.